Amy Van Winkle & Fran J Nagy | Ancient Influence
February 6th - March 4th 2020

Slate Gray Telluride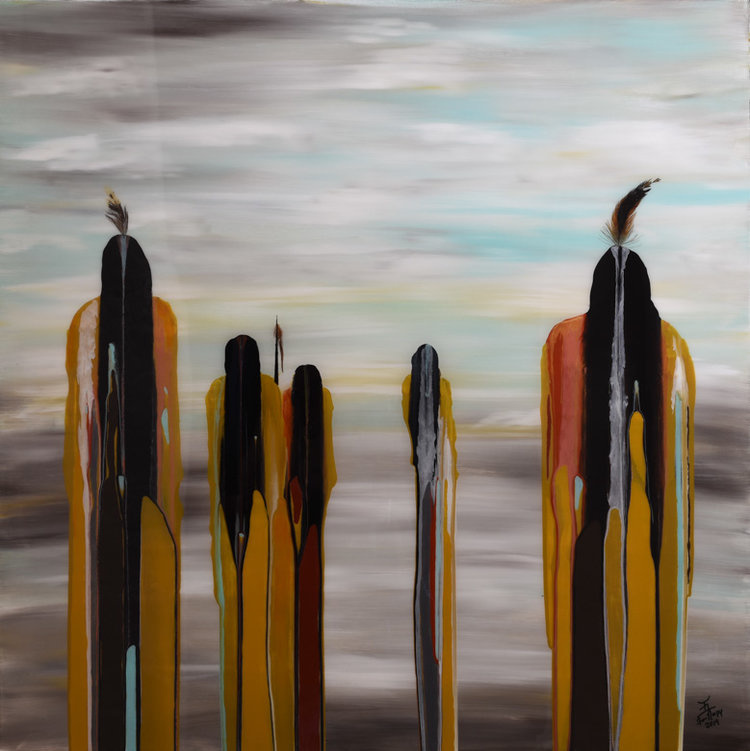 Two artists from different times and cultures feature attenuated forms in their paintings. Both trace the inspiration of their work to their disparate roots. Both use their platform, fine art, to make statements about The Other, about social ostracism and/or indifference – or worse.
The Italian artist Amadeo Modigliani (July 12, 1884–January 24, 1920) is best known for his portraits and nudes, which featured elongated faces, necks, and bodies. 
A show in 2017 at The Jewish Museum in New York centered on how anti-Semitic sentiments, prevalent in Paris at the turn of the 20th century, helped shape Modigliani's aesthetic during his short, yet extremely prolific 14-year career. Understanding the anti-Semitic social and cultural climate in which those early works were created is crucial to apprehending Modigliani's overall oeuvre and how it was influenced by his own interpretation of his identity as a Sephardic Jew.
FRAN NAGY
Fran Nagy, a relatively new artist in Slate Gray's stable, has Native American DNA. Working with acrylic and resin on canvas, like Modigliani, the paintings of this multi-disciplinary artist feature elongated forms, but Nagy depicts her figures with their backs to us – as they forward march into an unknown future. Some of these faceless shapes are stretched to the point of abstraction. Stretched any further and the could disappear into a simple line with no clear identity at all. These forms could easily be read as exclamation points at the end of a story about what happened to Native Americans in a country that prides itself – or used to – on being a melting pot.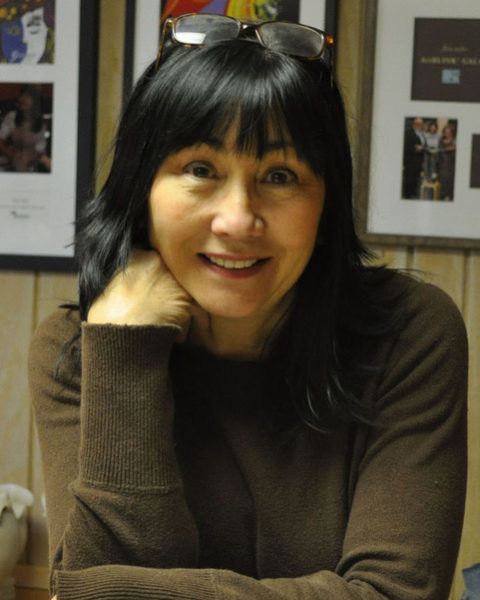 Native American art has developed over centuries, tracing its roots back to cave paintings, stonework, and earthenware. Typically linked to a deep connection with spirituality and Mother Earth, Native American art comes in many different styles and forms to reflect the unique cultures of diverse tribes.
"My Native American subject matter has been inspired by cultural assimilation and my own dwindling genetic makeup. I am the last descendant who carries any physical trace of Native American Indian ancestry. The content of this work speaks for thousands of people who were forced to make a journey down a path of assimilation."
Nagy's timing appears to be spot on. Not only are Native issues finally being heard in the media, some of the loudest and loveliest voices are those of artists like her, an American, a native and (in her case, part) a Native American.
Think of Fran Nagy's paintings as commentaries on the complex relationship between Native and U.S. history and contemporary culture. Her work delivers a powerful message and speaks eloquently to "the ones who are remembered – by how they were forgotten."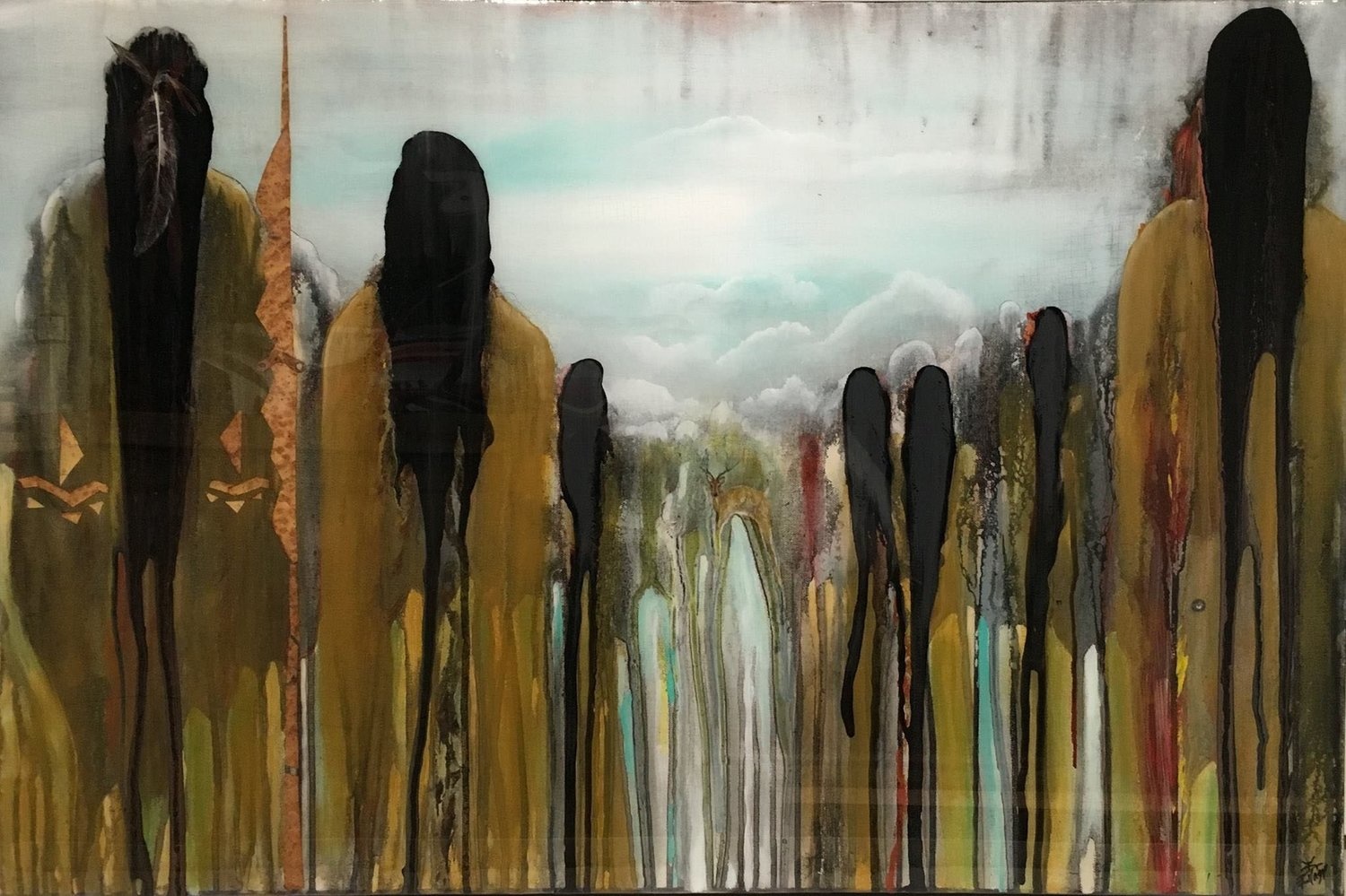 Continuing she says:
"As an artist and through my hands, I have found a voice to create art that is imaginative and also very personal. My work is influenced by my own ethnic and cultural experiences. My paintings, ceramics, and photographic art is abstract and contemporary, with a focus on the human form."
Fran Nagy is a life-long artist, former teaching artist, and owner of Imagine Partners in Art. She was born in Mobile, Al. and grew up in the New Orleans area.
Her ceramic work has garnered International recognition and numerous awards including an Honorable Mention at the International Ceramic Festival (Mino Japan, 2011) for her ceramic piece entitled "The Connected Couple." In 2012, Nagy combined sculpture and woodwork to create a unique piece "The Owls," which won the Grand Prize at the Nature Conservancy's "Picnic for the Plant".
By invitation, her work is included in Vasefinder International Exhibition, 2009, 2010, 2011, 2012 and 2014.
She has been represented by the Becca Gallery, New Orleans and LA; Robertson Gallery, Mobile, AL; Alabama Clay Market, Birmingham, AL; Birmingham Botanical Gardens Gallery, Birmingham, AL; Little House Gallery, Homewood, AL; The Grand Bohemian Gallery, Mountain Brook, AL; and lately Slate Gray Gallery, Telluride.
AMY VAN WINKLE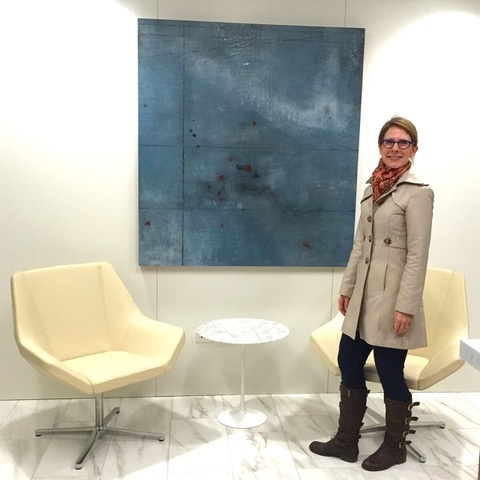 Everything old is new again in the work of artist Amy Van Winkle.
Encaustic painting, the name derived from the Greek word enkaustikos meaning "burnt in," was one of the the principal styles of painting in the ancient world, dating back at least two millennia. The technique involves using heated beeswax to which colored pigments are added. The liquid or paste is then applied to a surface — usually prepared wood, though canvas and other materials are often used. The simplest encaustic mixture can be made from adding pigments to beeswax, but there are variations on that theme. Once the wax paint cools, additional layers can be added to achieve depth and texture, color layered upon color, to create vibrant color fields.
Eliminating figure and ground in favor of color and form, Van Winkle's encaustics force a focus on paint, surface, texture, and gesture, creating abstract images that are effectively "soulscapes," both revealing and concealing the artist's inner world and life experiences. Space, time, and transition are common themes in her art.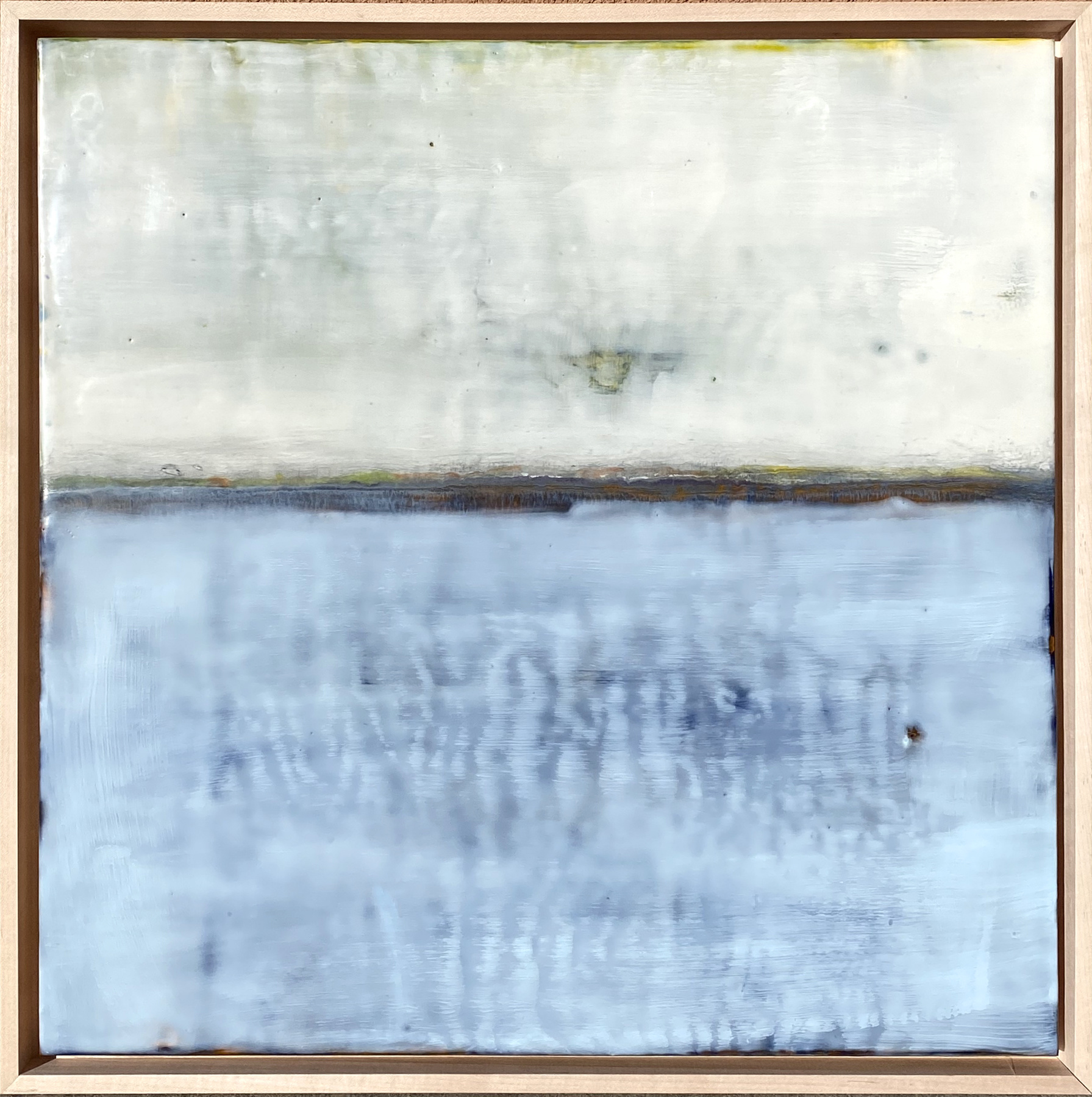 Van Winkle's work begs comparisons to Mark Rothko, an Abstract Expressionist renowned for luminous, transcendental landscapes and in-your-face fields of color. While similar, however, the two artists part company based on intention: Rothko was after spiritual transcendence; Van Winkle, well, she's a talented woman after a good time.
"It's simple: I create art because it makes me happy. I try not to overthink the process of what I'm painting and let my intuition be my guide. My paintings become a dialog of layers, with transparent and opaque details. Some of these layers will be sealed in the history of the painting while others will be revealed through heating and scraping the surface. There's a distinct relationship between the layers of my paintings and my own life experiences. Choosing to reveal certain elements of my history and keeping certain memories hidden and private."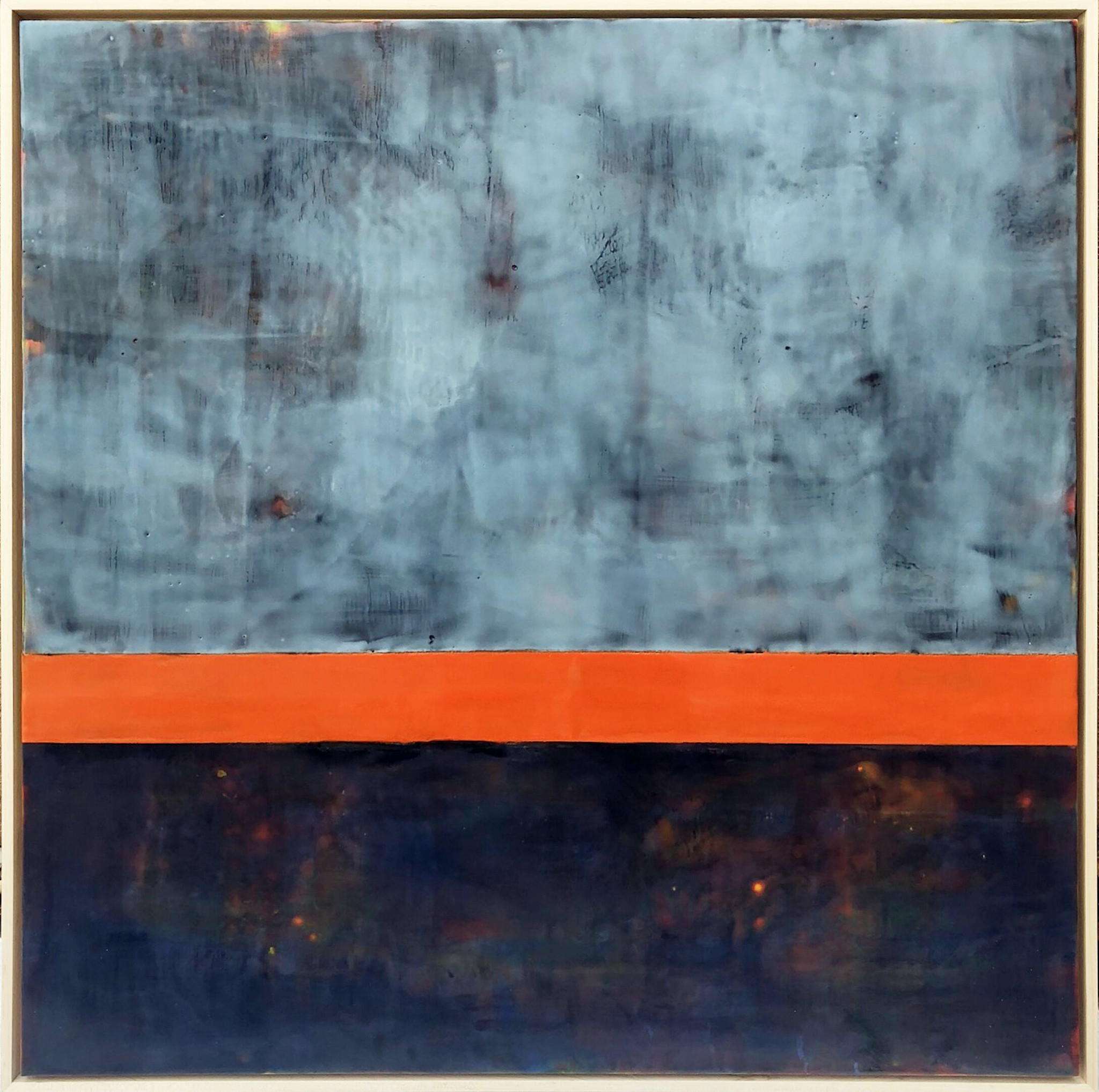 In 2000, Van Winkle moved to Hong Kong and began exploring Southeast Asia. The experience opened up a whole new world of cultural experiences and a desire to continue exploring. Back home in September 2001,Van Winkle opened up a home décor shop and art gallery in Chicago It is during that time she started showing and selling her work, now featured in galleries in the U.S., including Slate Gray Telluride, as well as Taiwan.
Today Van Winkle lives full-time in Santa Fe with her husband Mike, son Declan, and two dogs, Seamus and Oliver. Her work is featured in both private and corporate collections.
To learn more about Amy Van Winkle, listen to her podcast.