Felice House
In this series by Felice House, there is a super-glued relationship between face and place.
In  "Sum You, Some Me," featured at the Slate Gray Gallery, the focus is on female portraiture. In creating, umm, this body of work, House falls on a continuum with woman artists throughout history.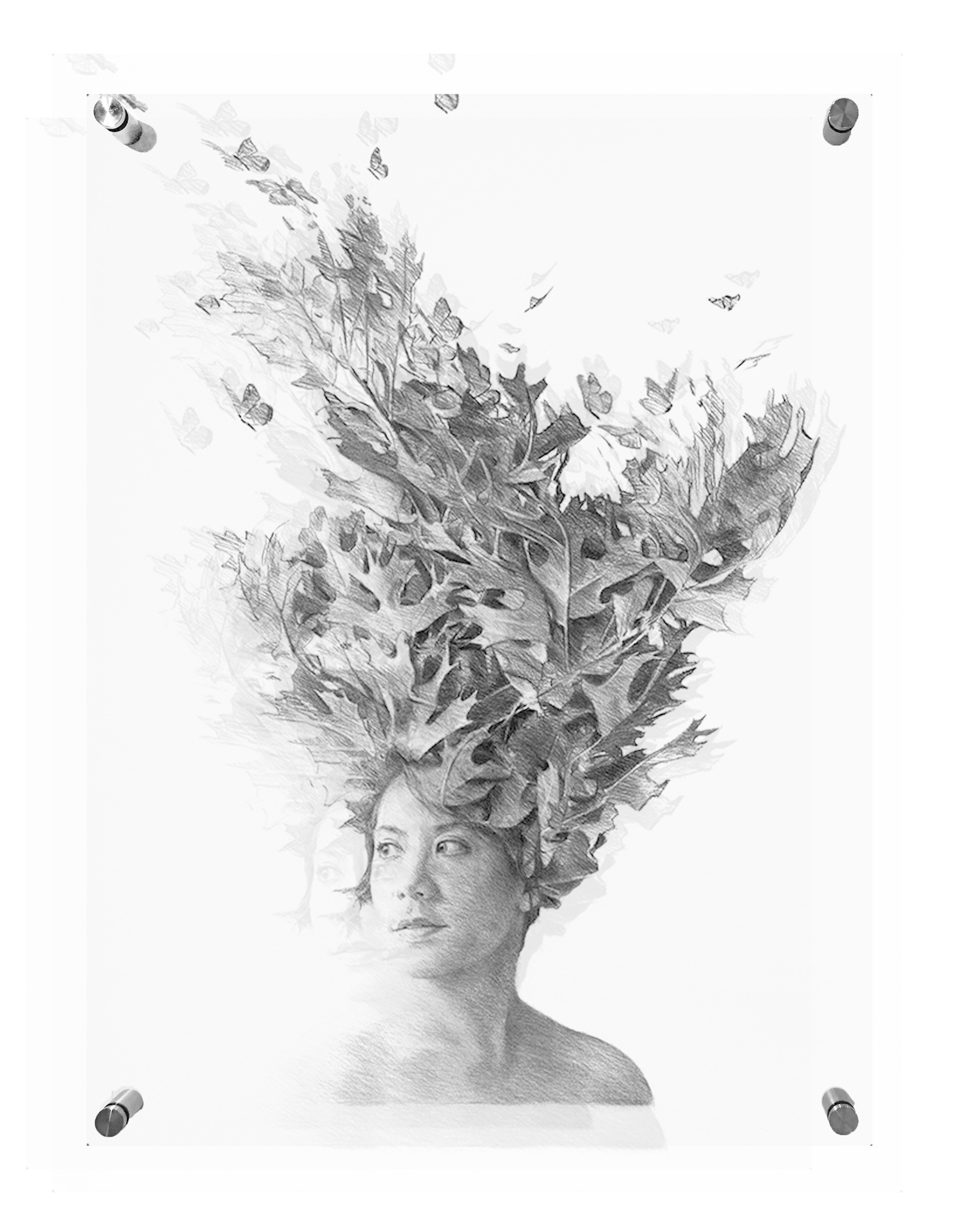 Louse Bourgeois for one. 
Bourgeois was obsessed with the spider because, in her own words, "If you bash into the web of a spider, she doesn't get mad. She weaves and repairs it."
Like Mother Nature in general when faced with recurring disasters throughout history.
What's more a spider, like a woman, can be at once comforting and threatening, feared and afraid. 
Another contemporary painter, Diane Burko, represents natural phenomena — and its change over time — to convey ecological issues, drawing attention to climate change
The long-running love affair between women and the wild stems from a woman's natural ability to create and sustain life and face down whatever befalls her. That is a subtext of "Sum You, Some Me."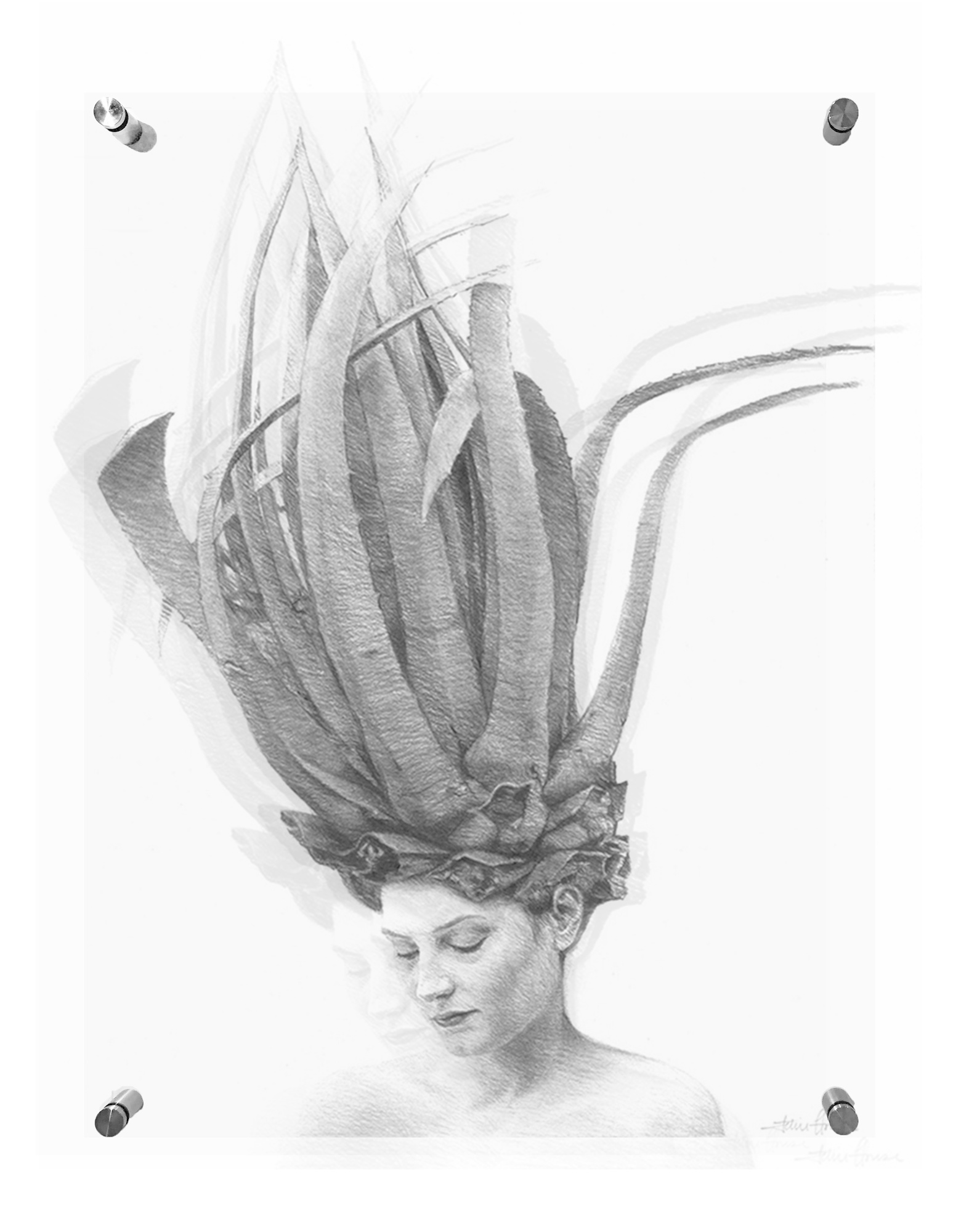 "Sum You Some Me" is clearly not a series of conventional portraits. The artist depicts only the head and shoulders of women in an intimate relationship with a landscape. The resulting tension between the figure an its surroundings creates a fertile interpretive space that allows the viewer to think about his or her own sense of self in the context of nature and wholeness. If we are aligned with Mother Nature, just a detail of her Big Picture, then destroying her would be an act of self-destruction, no?
Why head and shoulders only to depict her female subjects? According to House, to sideline sex:
"For these portraits, I chose to focus my work on the head and shoulders of the woman in order to put the power center in the portrait rather than using the art to portray their sexuality," she told PoetsArtists in 2017.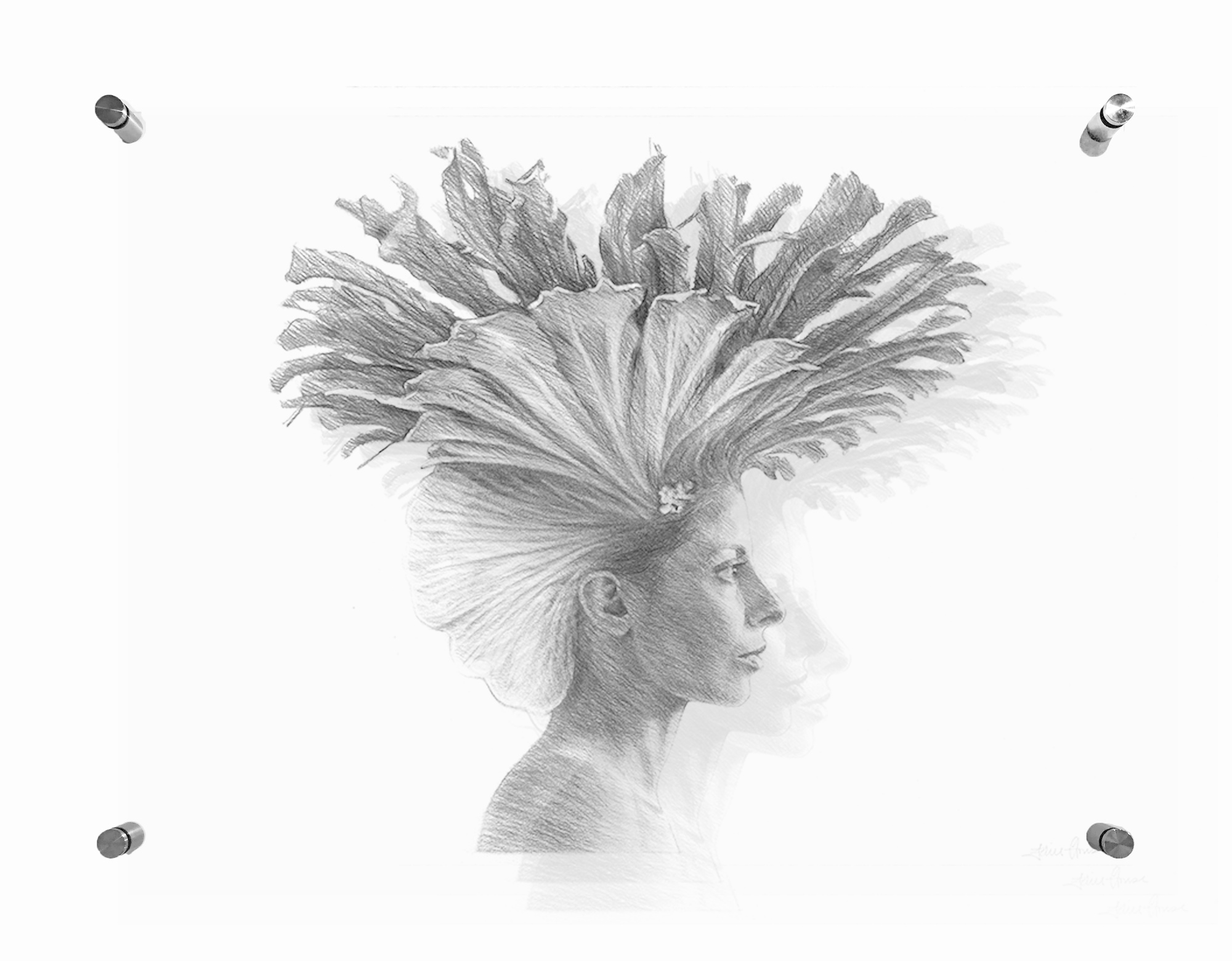 Good point. Just look at the history. The ideals women have been asked to embody over time, culture, and continent, have been hammered out almost exclusively by men with brushes and hammer. Passivity became the norm as manifest in all that soft flesh, in all those deferential or, on the other end of that continuum, overly aggressive sexuality. (Middle finger implied.)
Eliminate all that, as House does in Sum You, the flesh stuff, the venal, and we lose the hourglass eye view of the world. Or the Twiggy model. Or the Gaga model. Whatever the current version of perfection.
Eve then merges with apple. She is knowledge.
Gendered division in the art world writ large is a thing for Felice House. In another of her series, Re-Western, she reimagined her favorite Western films cast with female leads instead of the traditional male cowboys, painting females in place of actors such as James Dean, John Wayne, or Clint Eastwood. The women in those paintings are pictured strapped with shotguns riding horses, fiercely looking out onto a deserted plain, and strongly staring into the eyes of the audience clad in plain button-downs and bright red cowboy boots.
"I would argue that in today's culture portraying women without objectifying them is an intentional and political act," said House. "The art historical and current cultural norm is to portray women to extol their sexual beauty and to encourage possessiveness. For centuries men have painted images of women for men. Now that women have access to education and training, women are painting women as we see ourselves," she told Colossol in 2017.
In that same interview, House explained how she became an artist. 
Bottom line: Genetics ruled. Nurture followed:
"My mom, Lynette House, is a representational painter. I grew up going to life drawing classes with her. For a while she had a studio in the attic of an old building at Amherst College that had a beautiful north skylight. Later we moved to Williamstown, MA, the home of the Clark Art Institute. At that point, she maintained a studio in our house. When I walked into my first painting class in college holding a box of my mom's old paints I knew I had found my path."