James "Dusty" Pendelton | Nocturne
June 11 - July 9 2020

Slate Gray Kerrville
Dusty Pendleton describes – we suspect tongue planted firmly in cheek – his elegantly hushed, darkly beguiling crepuscular landscapes, ofttimes populated nowadays by the echoes of people past, as "realist " paintings. Collectively his work rolls up into the subjective vision of an artist (and largely self-taught art historian) who expresses himself through a simplified, non-naturalist style animated by an element of magic in which his human subjects are rendered as patterns on the scene, significant yes, but details that seamlessly blend into a memory of a moment spent en plein air, (outside).
And when we say '"simple," we mean simple in the same sense as Einstein's Theory of Relativity. Simple like E=mc2, Dusty's marks holding as they do an entire universe of memories.
The phrase "nocturne painting" evokes the name of the legendary 19th-century artistic genius James Abbott McNeill Whistler, one of the most famous makers of night scenes largely based on close observation and memory. Whistler used to phrase (after junking "moonlights" to describe that body of his work) to sum up a style that depicts scenes evocative of the night or subjects as they appear in a veil of light, in twilight, or in the absence of direct light. In other words, nocturnes are paintings like the ones Dusty makes like exhaling: soft, dreamy, pensive, moody, featuring diffused light, muted tones and outlined (there but not there) figures and objects.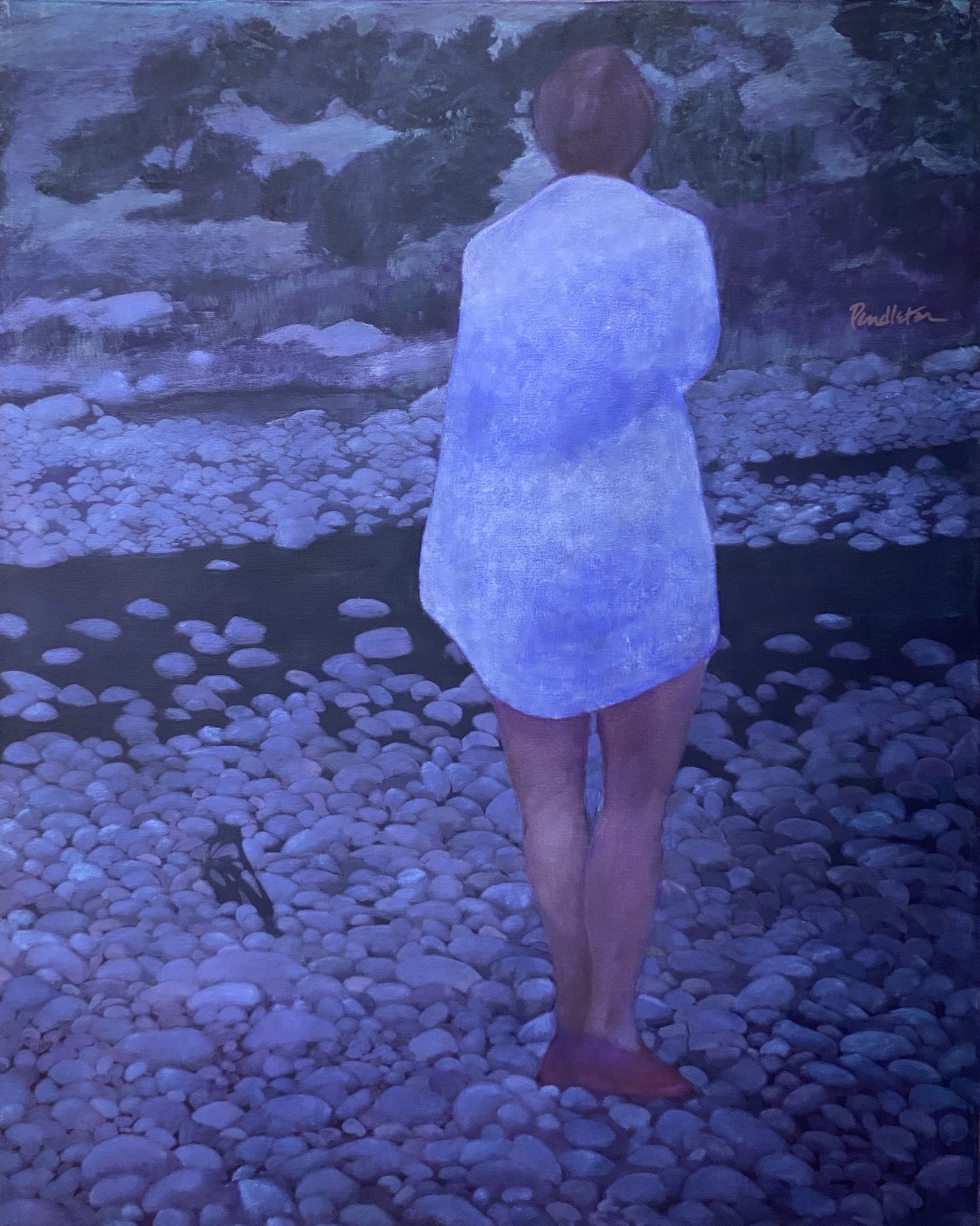 Dusty influences are as complex as his images are apparently naif (but of course, are anything but).  
He loves the work of Austrian Expressionist Egon Schiele, who, despite his short life, had a major influence on Modernist figurative art in the 20th century. Schiele's paintings and drawings are compositionally bare, focusing on a stylized representation of the human figure. Sound familiar?
Dusty claims a certain affinity for AbExer Mark Rothko, who painting spiritual landscapes, which grew darker and darker in the years leading to his suicide in 1969. Courting transcendence was too heavy a burden for Rothko. Likely not for Dusty, whose comes alive in the shadows.
Dusty has a copy of the Venus of Willendorf in his studio, a figure from 30,000 to 25,000 BC and an icon of prehistory. One notion is that she is a "Venus figure" or "goddess," used as a symbol of fertility. Dusty's life certainly has been that. (Though not in the goddess sense.)
And though he grew up in the 1950s and 1960s, Dusty is not a big fan of the fraternity of abstract artists who came to fame in New York, (and some on the Left Coast), just after the center of the art world landed in Manhattan after WWII, leaving Paris licking its wounds.
Instead, during that time, Dusty was drawn to, more compelled by Andrew Wyeth and his  world-famous "Christina's World." 
Andrew Wyeth, (1917-2009), remains one of the best-known American artists of the mid-20th century. His favorite subjects were the land and people around him – again, sound familiar? – in his case, his hometown of Chadds Ford, Pennsylvania and his summer home in Cushing, Maine. Wyeth is often quoted as quipping: "I paint my life."
Just like Dusty Pendleton. Who paints life (from memory) in the Hill County of Texas, after sun the goes down, shining his own light instead.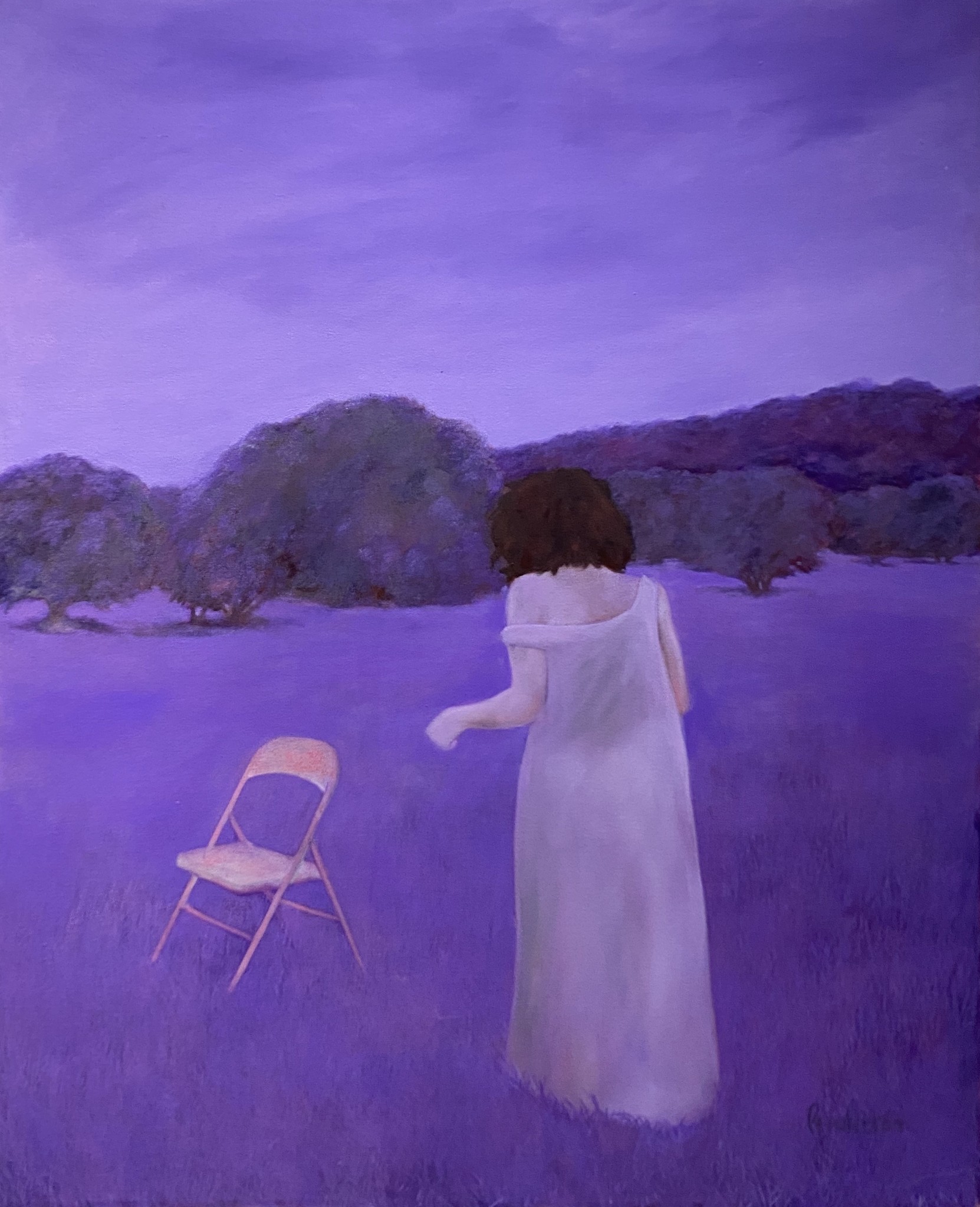 Our exchange, which follows, should shed more light on Dusty and his work:
SV: Life can be a circle game. Though peripatetic, you were born and raised in the Hill Country of Texas, and returned to your roots to settle, bucking the title of Thomas Wolfe's famous novel, "You Can't Go Home Again." Please talk briefly about the your childhood and the influence of your family and surroundings on your future profession as a fine artist. And then explain why you decided to return to Texas. What about the Hill country drew you back?
Dusty: Houston, TX, was where I was born. Our move to the Hill Country was a part of what seemed to be a tidal flow of Houstonians to the region. Now, remember that from the 1930s to the advent of air conditioning, the Hill Country offered escape from the heat and humidity of the Gulf Coast so there were many summer homes and that led to a population that was a bit more culturally inclined. And that led to the Hill Country Arts Foundation and the summer stock Point Theater. Summers meant that kids were sent to the summer camps and the whole county became a sort of playground. So, it became and remains a very beautiful part of the planet, easy to enjoy. 

My family never really understood why I was always in a world of my own, but they were aware of my talent. So, I won a scholarship to attend oil painting workshops at the HCAF under Walter Steumpfig and there I got a glimpse of something going on in the world of art. I wanted to be a part of it.

SV: In your artist's statement, you mention "5 years of learning." Where did that learning take place and which lessons stuck?
Dusty: Real "learning" in the form of how to draw, paint, photograph, print and at the same time, deal with the rather stale, but entrenched world of Academe.

SV: But then your classroom was the world. Take us through the countries you visited and describe briefly how each new adventure abroad, each new landing place, ultimately fed into your art.
 
Dusty: Earning a degree, the passing of my aunt and meeting Martha, my wife of 50 years, all happened in the summer of 1970. I'd inherited some money and we found that it would last much longer in Europe so we took off for a yearlong honeymoon in Spain. I'd never been anywhere but Kansas; never been in a commercial airplane and so from the time we boarded in San Antonio my brain began to soak up an amazing series of visual references. Spain was situated so that we could move about from the Prado in Madrid to the Louvre in Paris and everywhere in Rome. I could stand face-to-face with works that before had only been a poorly reproduced image. But when we decided to start a family, we thought the States were a better choice for that and so we came back.  

Homecoming meant putting together some sort of life in the arts, so we moved to Taos, but 1972 was 'the year of the Indian' and I didn't fit. We moved to Houston where I found Winterhill Gallery and had a solo show, but that was when I met resistance to the figure, especially the nude.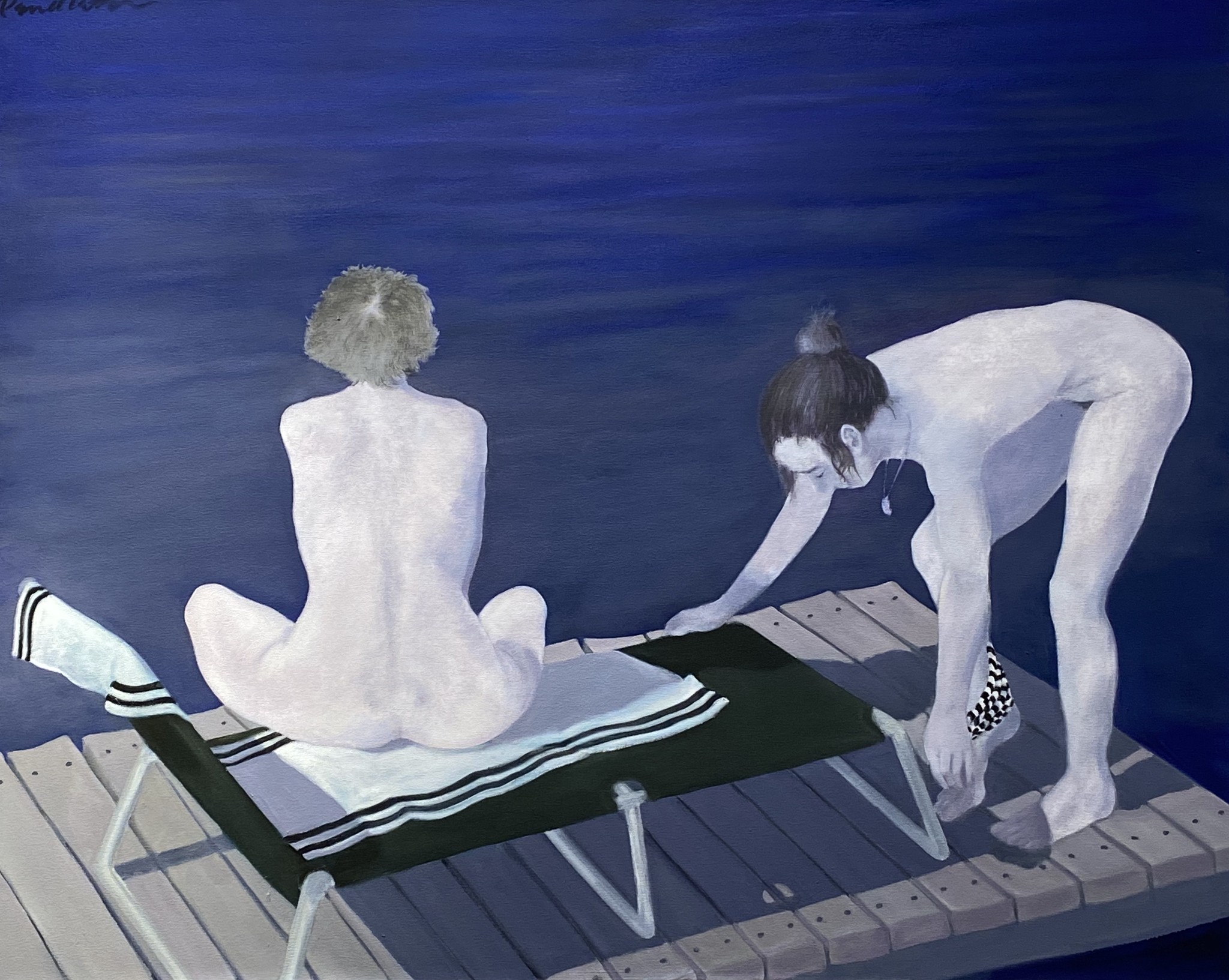 Next came New York – and the absolute impossibility of showing my works. I was told that "easel painting is dead" and that "none of my clients will look at your work." Minimalism had arrived, along with Conceptual art and blah blah blah. However, I did meet with Ward Jackson, director of the Guggenheim, a truly affable man who spent time looking at my portfolio and suggested I should consider going to Paris. To me he seemed to be like a Genie in a Carlos Castaneda book, someone who magically appears amidst the chaos. So, we moved to Paris, got a flat in Montmartre and began that chapter. 
I had a solo show at Gallerie Helene Appel and continued my love affair with the Louvre. The Pre-pyramid Louvre, where hours could be spent for free and even the guards got to know that I posed no threat. Nearby, in a little book shop, I found Dr. Alessandra Comini's book on Egon Schiele, Now, Schiele was never mentioned in any of my classes and his kinky nudes were certainly never shown anywhere I had been. I began a communication with Dr. Comini who, it turns out, was a professor emeritus at SMU. My world was suddenly opened upon what was going on at the same time that Picasso was in his blue to rose transition, but the Expressionists caught my attention in a much sharper manner. 
After a while, we left Paris for England and a sort of re-grouping and re-think of where we were heading. Eventually, we came back to Kerrville and that led to buying a motor home and doing an extended tour that was our daughter's idea. Since she'd been so willing to get dragged around Europe, why not let her decide? Cramped quarters led to my reducing my image size to little miniatures in watercolor and then I had a solo show of them in Kerrville at the late Carlton Ingram's antique gallery. 

Then we met a friend who convinced us that while we waited for the motor home to sell, we should go to Oaxaca, Mexico. We did and found it very easy to live there for 18 months of incredibly floral surroundings, a people so diverse that in the state of Oaxaca there are 26 different dialects –so Spanish became the lingua franca. I also met artists who shared a common complaint that art was too expensive to make. So, I started saving the paper that wraps tortillas in the market and drawing in pencil on them, little nudes of the physiognomy of indigenous mountain people; short mesomorphs of remarkable proportions. Good art that cost virtually nothing to produce and easy to transport or store. 

Also, Oaxaca was then (and I assume still is) a destination for what can be called intellectual tourism. People from all over the planet came to study the ancient pre-Aztec cultures and the arts. There I met Doris and Claus Lingenauber, who hosted a solo show in Hannover, Germany. That one sold out. Then we met Niel Bally, an English artist on his tour of Central America and Mexico. 
Later Bally and I met again and he became the one who coaxed me out of the studio and into the landscape. It was an eye-opener for me to focus on what I'd been taking for granted and how much had changed in 20 years, especially the presence of electric "security" lights that ruined what I had known before as pure, dark nights. When moon lit, the nights were amazing to me in the 50's and 60's, but now gone. So, I started painting how I saw everything before that. It's difficult to get around the way that brilliant sunlight flattens the landscape appearance, but I found that just at sunset, the environment changes, cools down and refreshes, then, with crepuscular evening comes the violet light. It was new to me; sort of uncharted waters and a chance to put the figures that I'd painted in a sort of nowhere; into a landscape that I'd created.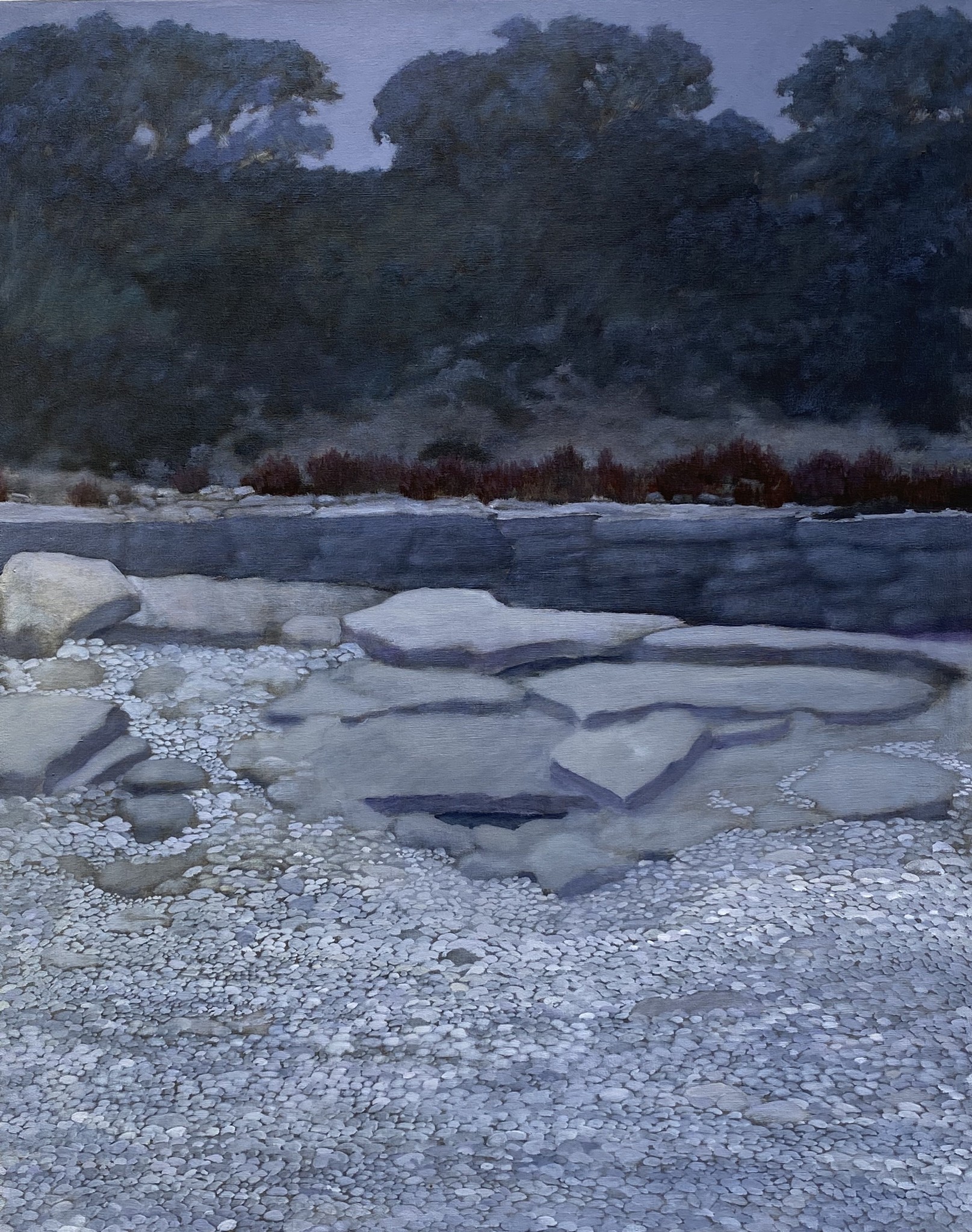 SV: You grew up in the 1950s and 1960s. The 1950s was just after the center of the art world shifted from Paris to New York and Abstraction Expression ruled. Then along came Pop Art and Color Field Painting, Minimalism and Conceptualism. How did those movements influence your life and work? We ask because you refer to "the cold intellectualism of the abstract," a point we could argue. Nonetheless, the question stands.
Dusty: Ok, to grow up in those years meant that there was a kind of dictum that seemed to come from NYC that anything that was not a part of that tiny group of painters wasn't art. However, right in the midst of that, I found a photo of "Christina's World," Andrew Wyeth's incredibly striking work; however, to even mention his name would start a spate of derision from those who, to me, seemed to worship what evolved out of the belly of the Cedars Tavern, an AbEx hang. And everything had to pass art critic Clement Greenberg's test of "pass" or "fail," so it took me a while to sort out that what I found in the art of that time was that there were painters who would and could actually do works that showed a certain joy in the making. Joan Mitchel's work would pull me into the actual, physical, effort of loading and swinging the brush. Those few Pollock works that I'd seen could sort of take me there, but the Color Field works, even the ones that I enjoyed like Barnett Newman's "Zip" series and Ellsworth Kelly's "Blues" would attract my vision, but never did they involve me in how it was done. The painter was taken out of the work and what was left is what I called the cold intellectualism. Never has any of those works moved me as much as my first vision of "Christina's World." Later in life, I learned that the entire of that painting was constructed, composed and painted as a piece, not a snapshot of a severely challenged person facing a difficult climb.

SV: Please react to this statement: Art should reflect an emotion or idea rather than represent the natural world in the objective. And/or would you say your aesthetic emphasizes imagination and emotion over naturalism?
  
Dusty: Art CAN reflect emotion or idea whether or not there is a representation of the natural world. Minimalist Agnes Martin certainly showed me that. Perhaps even as strongly as any Egon Schiele piece. However, I choose to base my work on something tangible, something that might strike a chord in the viewers' memory, in his heart and mind.

SV: Why do have a Francis Bacon in your studio? He was a painter of wounded and traumatized humanity. Why the Venus of Villendorf? Which artists past and present have influenced you the most?

Dusty: The Venus of Villendorf is what must be near the first representation of the figure, a part of the realistic cave paintings and a discipline that has continued for some 30,000 years up to right now. Why would I not keep that in mind? The influence of other artists has more to do with HOW they did what they did than what they did. I think I admire all of the artists who have worked with the figure and I assume that any and all I've seen have had an effect on me. That and  the pareidolia – look it up – that has kept my imagination working overtime all of my life, seeing things that can't be unseen in places that others are able to overlook.
 
Contrary to what someone wrote, I don't have one of Bacon's works. What I have is a slowly disintegrating magazine image from an article about when he came to Paris for a retrospective. It's him sitting in the absolutely crammed studio that was eventually deconstructed layer by layer the way archaeologists treat ancient ruins, then taken to Dublin and installed to show where he worked. It was all part of a museum dedicated to Bacon and his art. Personally, I too thrive on the chaos of clutter and find some Zen-empty rooms so disconcerting that I have to leave them. I also don't do maintenance on my building as I'm sort of participating in the slowly aging construction. Old wood impresses me more than fresh, evenly dimensioned wood. A patina of rust enchants my vision far more than polished metal. Green bronzes appeal more than when shiny and gold-like.
SV: What is it about twilight that draws you? And the highly abstracted figure in that landscape of time?
  
Dusty: Twilight draws me into it. Dark seems to embrace me in the way that Marc Rothko would have understood. In the Hill Country, I find that the erosion of time is a metaphor perhaps of my own life. Think of it: an ancient sea bed, layers upon layers of the fossils of various sediments thrust upwards to the surface and then eroded so that there are rough and rugged hills, sporting Juniper forests and wildlife, gradually being worn down to boulders, rocks, gravel and finally a chalky white Caliche dust. I can put all of that in one image and populate it with someone whom I may have seen 60 years ago, but remember just how they looked, how they moved and quite often, just how they moved me.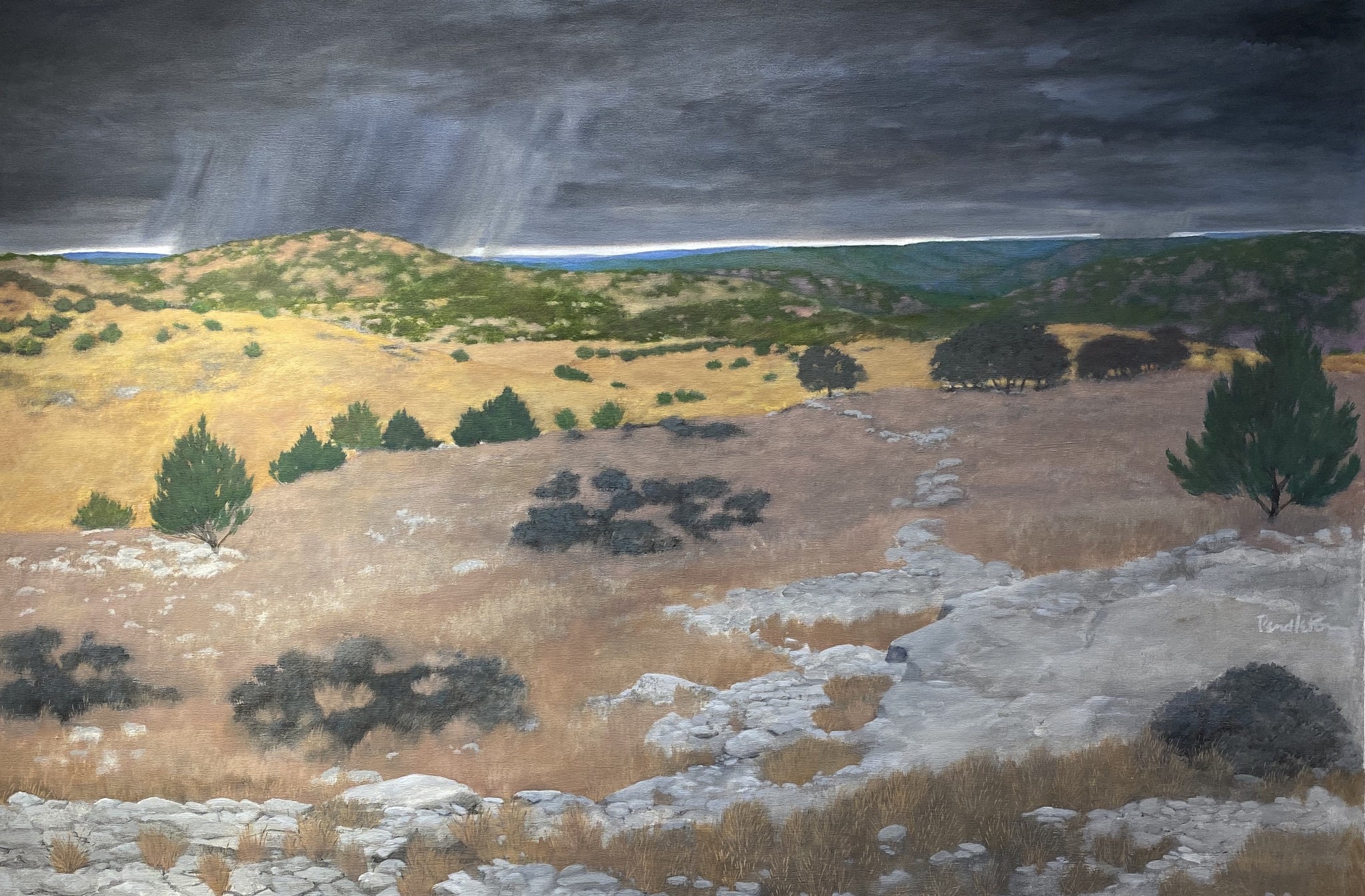 SV: When and how did your relationship with the Slate Gray Gallery evolve?
 
Dusty: A new gallery, in a place where galleries are rare and often short-lived. Impeccably assembled but, at first, I wasn't made to feel welcome and there was no desire whatsoever to see my work. A friend and collector made amazing efforts, even offered to work half days for free – if my work could be there….Then I got several hints from friends that things had changed. Martha and I decided to check it out again and indeed things had changed. That brings us to the here and the now. I'm elated to be able to put work up for new eyes to peruse it.
Thank you, Susan. I've enjoyed this.