Joseph Toney | Abstracted Alpine
July 5 - July 31 2019
Slate Gray Telluride
 
The Chinese term for "landscape" is comprised of two characters which translate to "mountains and water." The age-old tradition is linked with the philosophy of Taoism, which emphasizes harmony with the natural world.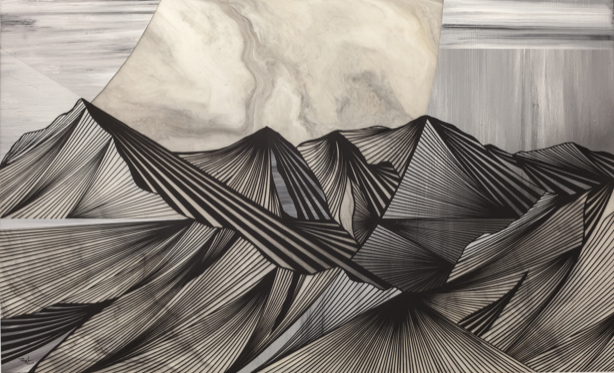 Cubist paintings, landscapes or otherwise, broke with the academic convention of a single viewpoint. It is as if the artist kept shifting positions and then attempted to combine the different "views" he saw onto a surface. The resulting image is a complex interlocking and overlapping of forms. The subject is transformed into a kind of geometry - or architecture - often rectilinear in its makeup.
 
East meets West, past meets present, in the edgy landscapes of artist Joseph Toney, who cites both Chinese scroll art and Cubism as key influences. His work is on display in a show titled Abstracted Alpine for the month of July at Telluride's Slate Gray Gallery, 209 East Colorado Avenue. The opening is coincides with Telluride Arts' Art Walk,Thursday, July 4, 5 - 8 p.m.
 
The artist Caspar David Friedrich once said "The artist's feeling is his law." Toney's feeling? Unbridled enthusiasm – especially when in the mountains skiing or just being. Like his Chinese counterparts, the young artist has always been in harmony with the natural world and he hopes those feelings pervade his work:
 
"My goal is for my art to communicate the sense of completeness, liveliness, and excitement I feel when I spend time in the mountains."
 
In Joseph Toney's illustrative abstractions, majestic mountains are reduced to clean lines and  muscular patterns, to contour studies that summarize the richness and variety of the awesome shapes he has loved since his childhood growing up in Appalachia within spitting distance from a ski mountain.
 

Like many of Picasso's (a major influence) work in this genre, Toney's images are "memory landscapes," in other words, they are not painted Plein air style on site. 
 
Toney's creative process begins when he is out ski touring, biking or hiking, camera in tow. Photograph in hand, Toney initially executes his painting with freehand sketches, then finishes the work using a process he sums up as "device drawing," a technique that involves the use of rulers, French curves, and a makeshift compass. The resulting mountainscapes executed in acrylic and resin are directly translated onto wood panels. At least for now: Toney is moving into deeper abstraction and works on canvas.
 
Joseph Toney, age 28, grew up in Boone, North Carolina, just 10 minutes from a ski mountain, where he became a self-described "fanatic."
 
He began making art in high school and knew way back then his destiny was mark-making. Toney went on to attend a local college, Appalachian State, majoring in the School of Fine Arts in graphic design and painting. 
 
Toney took a hall pass following his sophomore year to spend time in Austria and Germany studying design in Dornbirn, a toy town on the border. Back home, he landed a job with Teton Gravity Research, doing everything from T-shirt design to logos, posters, and magazine ads. 
 
He then returned to college to finish his degree, after which he landed a job with Armada Skis:
 
"Why Armada? The company had an 800-square-foot studio, which was my playground. I could work and paint."
 
Toney left that job in December 2018 to see if he could make it on his own. And his career as a professional artist is rocketing.
 
The arc of Toney's career should be an inspiration for all young artists.
 
In addition to freelancing now for Armada Skis and other clients, Toney took the initiative to put together several grants, which have paid off big time. Following his visit for to Telluride and Slate Gray for Art Walk, he is headed to Westminster Colorado (just outside Denver) to paint a 2,500 foot mural for the city.