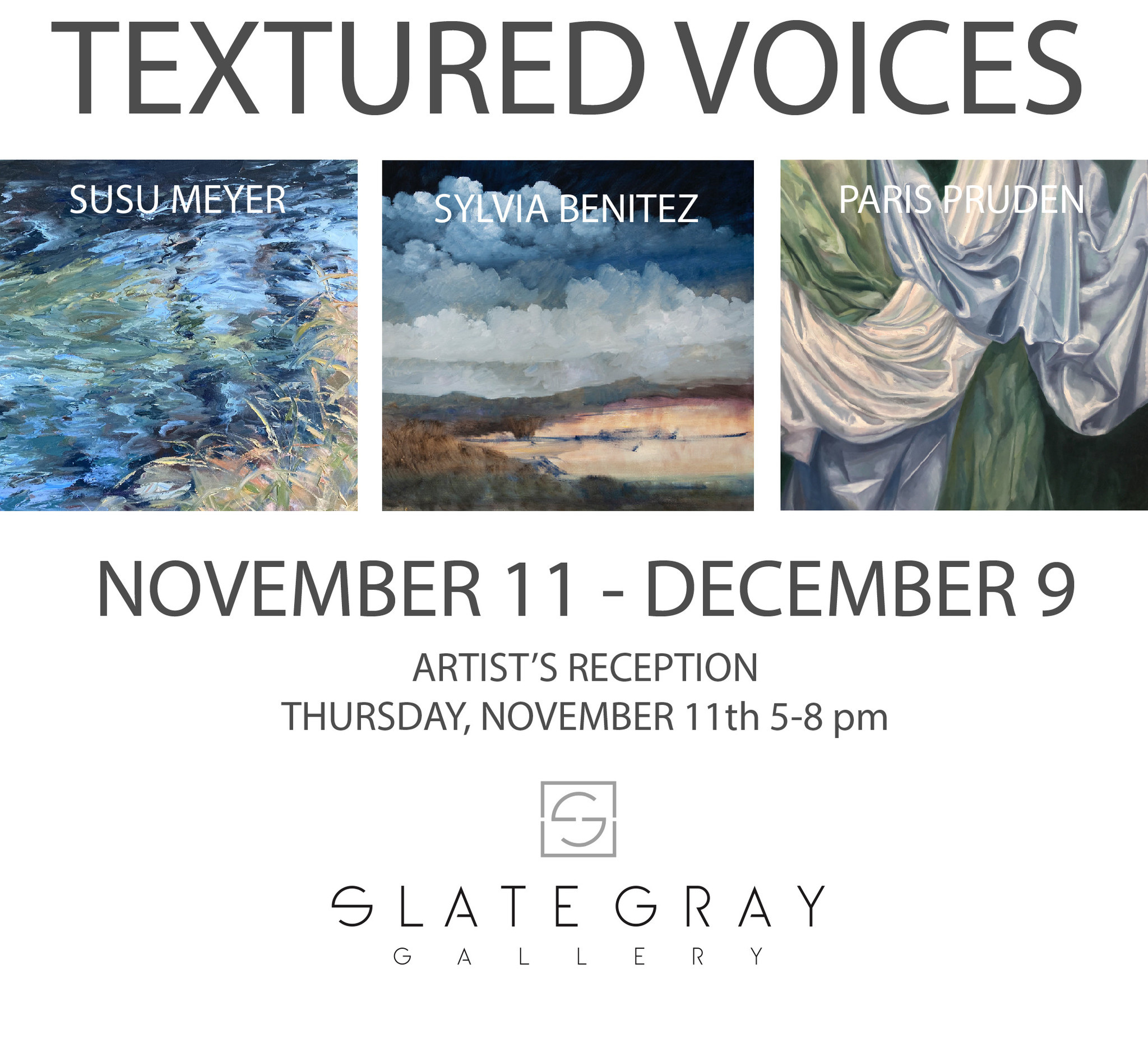 Textured Voices | Susu Meyer with Sylvia Benitez and Nancy Paris Pruden
Show filters
The show titled Textured Voices, currently up at the Slate Gray Gallery Kerrville through December 9, features the work of Susu Meyer, Sylvia Benitez and Nancy Paris Pruden.
Artist's Reception, Thursday, November 11th 5-8pm
Slate Gray Gallery, Kerrville, Texas
235 Earl Garrett Street
What these three artists share is a sorcery of paint and an addictive read of their world written in glorious colors and textures mostly in oil on canvas.
The show titled Textured Voices, currently up at the Slate Gray Gallery Kerrville through December 9, features the work of Susu Meyer, Sylvia Benitez and Nancy Paris Pruden.
"I chose the two landscape painters to highlight the differences in their technique and subject while using the same medium, oil on canvas," explains gallery director Marla Coffee-Key. "Benitez almost always paints a far away view in smooth blended tones. Susu Meyer frequently goes into close up realistic detail with scraggly underbrush and rippling waters using thick, fast strokes. Then in a Close, Far, In-Between scenario, Paris Pruden's drapery series felt like a fitting complement in that it depicts the closest view, in fact, a visual barrier, one that leaves you in anticipation of what lies beyond. So, there is a theme here of layers. Of realism and abstraction. Of silkiness and roughness. Of work by female artists. Of texture."
Meyer and Benitez explore the sublime and romantic, the magic and mystery of their surroundings that are at once lush, rapturous, and intimate. Their work is not about mimicry, rather their paintings represent deeply personal outer expressions of a vital inner force which we their audience are privileged to share.
Susu Meyer:
Susu Meyer readily admits to being fascinated by nature, which she captures in slightly abstracted, lyrical landscapes that amount to love letters to her state:
"I am drawn to the large and small aspects of what we are surrounded by daily. Light might catch my eye, form and texture might bring it closer into focus, but there is no formula. I am fascinated with the Big Picture, and the intricate pieces of the whole as well, striving to investigate and express what I see and experience in a personal and intimate way."
Before she begins a painting, Meyer tends to mull over the details in her mind for some time:
"I work from as many visual influences as I can: photographs, personal observations, sketches… I am not trying for a literal translation, but strive to put some of my feelings and my 'handwriting' into each work."
Then her images goes through stages: blocking in, scratching and scrubbing, lots of changes.
"My process creates surfaces I can build upon. I love surface quality, visible struggles, while striving for harmony in each of my paintings. I want them to feel alive. Some are quiet and contemplative; others loud and energetic. Regardless, I always live with them before releasing them out into the world."
Also featured in the show is a series of Meyer's new monotype prints. Susu is truly enjoying the exploration of this technique; the results are colorful, visually arresting and completely distinct from her oil paintings.
"I personally find so much joy and freedom in making the monotype prints, mainly because they force me to work in a completely different manner. The process can be uncomfortable, but urges me to think outside the box. There's such excitement in pulling a print. I really love making them."

Susu Meyer, more:
Susu Meyer was born in 1954 in Houston, Texas. She earned her B.F.A. at the University of Texas at Austin in 1977. 
Meyer tends to paints large-scale Texas landscapes and the rivers of Texas, which she has exhibited at galleries throughout Texas since 2002. Today her work is featured in major public collections, including the Houston Country Club, Chevron offices, Colliers International, EOG Resources and Memorial Hermann Health System.
Meyer hopes her viewers have a personal experience with her work and feel as though they are present in her landscapes.

Sylvia Benitez:
The abstracted landscapes of Sylvia Benitez featuring Big Sky/low ground are at the nexus of site and insight, mining as she does the rich veins of memory to represent a personal, therefore unique, vision of her home base, Texas, (in the words the artist): "Be it the flight of wind, the roll of grass or the ripple of water…"
Benitez has been painting since she was a girl, mining the contents of her heart and soul.  
"My first studio (when I was 20 years) was in Maryland in an old mill in the middle of the Patapsco State Park. It was a raw 6000-square-foot space and fifth floor walkup without water and electricity. But it had double doors that opened to a sheer drop with a view of water sliding over glistening moss-covered rocks. The river went on and on morphing into light. I stared at that natural beauty for three years. And I think that is where my love for abstracting landscape came from and it still fuels me today."
After over 40 years of painting professionally, Benitez accumulated a wealth of paint application discoveries and techniques. 
"I use these when approaching new paintings—works based on memory of days or places, but always harnessed to traditional landscape compositions. From there I branch out, allowing my emotional state (plus color explorations) to dictate my general direction. Then I get quiet and just listen to the work. It tells me what to do as I embrace the mystery or the allure we feel just being alive in beautiful surroundings. I try to deliver that in my work, create paintings about the uplifting emotions places can inspire in me. My painting process pursues those emotions to be at one with the magic. Stored memories pour out and jumble, reconfiguring on my canvas as new impressions of place and time and weather, reflecting my need to document a heart song."
 
"Painting from memory frees me, allowing emotional content to enter into the work—the awe and sense of wonder and respect I have for the untamed and unprotected wilderness. That is what drives me to paint—the desire to celebrate this land while it is still relatively pristine."
In other words, observing the curves and colors, the rhythms and force of her surroundings, Benitez records our ever-changing world – and her own - with grace and eloquence that conjures the divine. A marvel to marvel at:
"Every day I see majesty: rolling hills, big skies, long views, and jade-green rivers. Where I live, Nature is still unmarred by modern footprint, and its beauty takes my breath away. My paintings are about that…"
Sylvia Benitez, more:
Benitez is an artist and curator who spent her formative art years in NYC but now lives outside Seguin, Texas.
Benitez is a recognized installation artist, painter and former professor—the recipient of many national awards, including two MacDowell Colony Residencies; two Pollock Krasner awards; An Adolph and Esther Gottlieb Individual Support Grant; an AICA award; and Two National Endowment for the Arts Visiting Artist Fellowships.  
Benitez is president and founder of The Gentileschi Aegis Gallery Association—GAGA— a 10-year-old 501(c)(3) nonprofit that has served over 100 women artists from south Texas since its inception, and which boasts today an active membership of over 70 women artists. 

Nancy Paris Pruden:
A multi-award winning artist, Pruden paints with equal ease and assurance landscapes, still lifes, portraits, and what she labels "contemporary." In her context, contemporary twins with drapery, richly colored and luminous in form – and a subject with a long, illustrious history. 
For example, the two giants of early Italian painting were Duccio and Giotto, who used drapery in different ways. Duccio, who was from Siena, a town that prided itself on magnificent textiles, clothed his figures in sweeping, sinuous folds of stuff that exist, on one level, to advertise the wares of his native city. Giotto, in contrast, had a much more sober, monumental conception of how to render fabric.
In the 17th century, Poussin would extend the tradition in a more measured way, using his dancers, for instance, to depict moving blocks of colors just as Mondrian did much latter on in his famous grid paintings.
Cézanne and then the Cubists would reinvent drapery as a subject of high seriousness.
In the world of modern painting, Abstract Expressionist Mark Rothko created a language for painting that turned on making pictures that resembled draperies –or veils– of pure shimmering color, spiritual landscapes.
These swathes of sensuous cloth can be glorious excuses for painting shape-changing clouds of gorgeous, saturated color.
And something else.
"This series is about the feminine force - being comforted, bound up, protected - all the things women do for their children. The cloth symbolizes power, soft and yielding but also surrounding and unfolding so that one cannot escape. There are many meanings to unpack here." explains Pruden.
What can be uncovered?
"I am exploring the idea of hiding behind a drape as a metaphor for not facing difficult decisions involving change: global warming, floods, drought, death, poverty, abuse, racism, female, and economic inequities. If we don't look behind the curtain we will not have to deal with the problem. I imagine I will continue to do these for quite some time." Pruden says.

Nancy Paris Pruden, more:
Pruden lives and works in Houston, Texas. Growing up in Ft. Worth, Texas, the artist started painting at a very early age when she won a scholarship to study drawing and later painting at the Experimental Art Program in Ft. Worth. By the time she graduated from high school, Pruden was selling her art and today is featured in many national juried shows. Texture and color are her main interests. She paints from life alla prima style in oils.
 
Recent awards include National Oil and Acrylics Online Showcase, 2021, 2018, 2016, and 2015 with Award of Merit 2018, Award of Merit OPS 2020 and 2019, OPS Plein Air Southwest, 2020, 2021, Best of Show HAS Spring Show 2021 - and many more accolades.