Kaleidoscope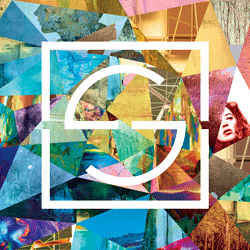 October Art Walk | Mélange
Featuring Andrew Brown, Karen Freeman, Karen Scharer, Mark Bowles, Martha Rea Baker, Molly Perrault, and Sylvia Benitez
October 1 - October 30, 2020, Slate Gray Telluride
Thursday, October 1, 2020, marks the 5th Telluride Arts' Art Walk of the season. Throughout the month, Slate Gray Gallery Telluride is featuring new works by a variety of Southwestern artists, including from the Telluride region and the gallery's original location, Kerrville, Texas.
The new kids on State Gray's block:
"I found I could say things with color and shapes that I couldn't say any other way– things I had no words for." – Georgia O'Keefe.
That quote by the iconic Georgia O'Keefe sums up the gestalt of the latest show at the Slate Gray Gallery, "Melange" – also the work of the new kids on the gallery's block, Telluride's own Molly Perrault and Karen Scharer from Pueblo, Colorado.
Molly Perrault is a gifted painter whose primary medium is paper, not paint. The subtext of her work: the natural world and sustainability.
An ultimate recycler, this uniquely talented artist uses tiny paper shards carefully cut from magazines for color and texture. She then obsessively, meticulously, seamlessly manipulates these jigsaw puzzle-like pieces to create the illusion of painting without paint.
This detail-oriented approach to making art is also Molly's way of subverting the artificial colors and sleek, glossy page layouts found everywhere in mainstream print media, which generally promotes superficial values. Instead, her work celebrates the natural world, specifically places that have been sources of inspiration, adventure, and comfort.
Molly's process then is cyclical: nature is the source of  the paper on which the magazines are printed, then used again to represent nature, underlining acts of destruction and reconstruction, aka, rebirth.
Molly Perrault grew up in South Louisiana and graduated from Louisiana State University, where she earned a Bachelor of Fine Arts.
In 2015, she moved to Colorado to experience the West. In her adopted home, the artist enjoys long road trips, stimulating hikes, and being part of a unique mountain-town community which encourages and supports creativity.
Molly debuted her first solo exhibition, "Regeneration," in June 2018 at the Telluride Arts HQ Gallery. In August 2019, she was awarded Best in Show at the Annual Ouray County Arts Association Fine Art Show in Ouray, CO.  In February 2019, she was awarded 1st Place in Telluride's Ah Haa School for the Arts' Annual Juried Exhibition.
A few stokes of her well-educated paint brush contain the immensity of Mother Nature, the artist's muse.
Karen Scharer's home and studio in Pueblo, CO., sit beneath dramatic skies just minutes from the beautiful Arkansas River and a short drive from some of Colorado's most spectacular mountain peaks, a constant source of inspiration.
"My art reflects my faith in imagination and intuition, and my passion for exploring and communicating the profound beauty of our world and the human experience. Through painting, my ideas and visions become tangible, providing a language to encourage, share, inspire, and uplift. Each painting evolves as if it were a conversation between old friends… sometimes lighthearted and joyful, sometimes contentious or troubling. As a result, each canvas is as individual as the moment in which it was created."
Karen's talent was in her DNA: her patents were both artists. However, although she showed some early interest in drawing and painting, the artist did not give in to the urge to make her marks seriously until the mid-1980s. A graduate of the University of Montana in 1975, Karen holds a degree in Natural Resource Management, a reflection of her love of the outdoors learned from her father when she was a girl.
In 1976, a job with the Forest Service took Karen from Montana to Boise, Idaho, and eventually to a job with IBM. In 1985, she married husband Al and moved to Albuquerque, New Mexico. It was there Karen began to paint, studying with other remarkable artists.
In 1991, Karen and Al moved to Colorado. After 17 very educational years, n 1997 she left IBM to fully devote her time to her art.
The rest is history in the making.
Karen sums up her process:
"My paintings begin as a series of loose glazes of color. As shapes and impressions emerge, successive layers of transparent and opaque paint are applied to develop and enhance the structure, design, and impact of the piece. These layers produce an infinite variety of hues and effects which cannot be achieved solely by mixing color on the palette. The interplay of contrast, movement, texture, balance, shape, line and color creates images that draw the viewer into the creative process, inviting them to see not just with the eye, but also with the heart. Inspiring the viewer to respond to the images I have created is a critical part of bringing each painting to life."
Amen.
Rounding out the Melange (or Mix) in the Slate Gray stable:
Sylvia Benitez is an artist and curator who spent her formative art years in New York. Now living outside Seguin, she teaches landscape painting in San Antonio, TX.
Between 1880 and 1920, landscape painting espoused a philosophy whose squishy center revolved around human emotion, sensitivity, and an expanded idea of The Sublime (or Divine).
And the beat goes on with artists like Sylvia paying the tradition forward with homespun lyricism, her abstracted landscapes featuring Big Sky/low ground at the nexus of site and insight. Because, in the end, the mirror of art is designed to reflect both the outside world and an artist's inner landscape.
Paraphrasing Benitez: "A clear artistic path is a gift that reveals the truth about oneself."
By her own admission, Benitez mines the rich veins of memory to represent a personal, therefore unique, vision of her home base, Texas, (in the words the artist): "Be it the flight of wind, the roll of grass or the ripple of water…"
Continuing:
"My work is painted without the aid or use of photographs. Instead, my oil paintings represent a mélange of mental images—the stuff I see everyday as it plays out against the backdrop of the ever-changing Texas landscape. This is the visual bank I pull from… And the stored memories pour out and jumble, reconfiguring on my canvas as new impressions of place and time and weather—alive…"
Abstract Expressionism is painting in the zone during which time an artist's creative interaction with his materials is just as important as the finished product.
The means justify the ends.
Welcome to the world of Andrew Brown, a Southwest Colorado native and son of renowned landscape artist Gordon Brown. Father and son share a studio, a converted barn, down the road apiece from Telluride in Norwood.
While Brown père's work depicts an idealized, somewhat (or entirely) abstracted, natural world, landscapes, and seascapes, young Brown's art is raw and intense, reflecting the turbulence of hungry youth. While both artists share, however, is a desire to capture a mood, not the physical surroundings themselves.
In the end, there is lots going on under Andrew Brown's roiling, vivid surfaces as he projects a feeling onto a canvas or board and infuses it with light and color.
In the work of painter-architect Karen Freeman, an AbExer 2.0, elegantly composed and delicately balanced shapes and lines appear to morph in and out of focus, colors shifting like the seasons. In the end, the work is an an ongoing journey of self-discovery and revelation:
"…It is this quality without a name that tugs at me in my art, my city, and my dreams. This quality cannot be defined or even pointed to directly; it can be described only tangentially, and even then only imperfectly, using such words as 'alive,' 'whole,' 'comfortable,' 'free,' exact,' 'egoless,' and 'eternal.' This quality too, is quite ordinary in that it's experienced in the common moments and places in life that cling to our memories and remind us that time, our life is passing. And so, this quality is also very poignant."
Karen's studio is located in the old post office in downtown Kerrville, Texas, just across the street from the original Slate Gray Gallery. Built in 1935, the art deco building is now home to a community arts and cultural center.
"Not only do I feel safe and properly socially-distanced there, being is my studio is pure joy and peace for me. It's like I am hidden away in my happy space, to create, connect with other artists online, paint, try new things, etc. Pure joy – and an antidote to dark headlines. In the context of corona, one thing that has not changed is my background in architecture and my love of the discipline. When painting, I tend to focus on the parts of a structure I find intriguing: a door detail, a plan view, an elevation, a city plan, a section of a building, a view through a doorway or window, etc. In my work they all play equal roles without regard to scale or how they relate to each other in the real world."
Telluride Inside… and Out (TIO) is a lifestyle webzine or ezine published daily, which addresses the "zazz" of Telluride or the region's sex appeal, focusing on the many ways this little mountain town is a window to the world. TIO explores the Telluride region's many riches: the fine and performing arts scene, festivals, and special events, and the unlimited outdoor adventure activities of the Rocky Mountains. Whatever is happening right now! Spend some time with us here at TIO, and you may find that you too are 100% Telluride Inside. Just go to www.tellurideinside.com.