Kaleidoscope
Ment(or/ee) | Gil Bruvel & David Davis
Slate Gray South | 130 E Colorado Ave, Telluride, CO 81435
July 29th - August 28th, 2022
Exhibition Opening | August 4th, 5pm-8pm
Artist Talk | August 4th, 4pm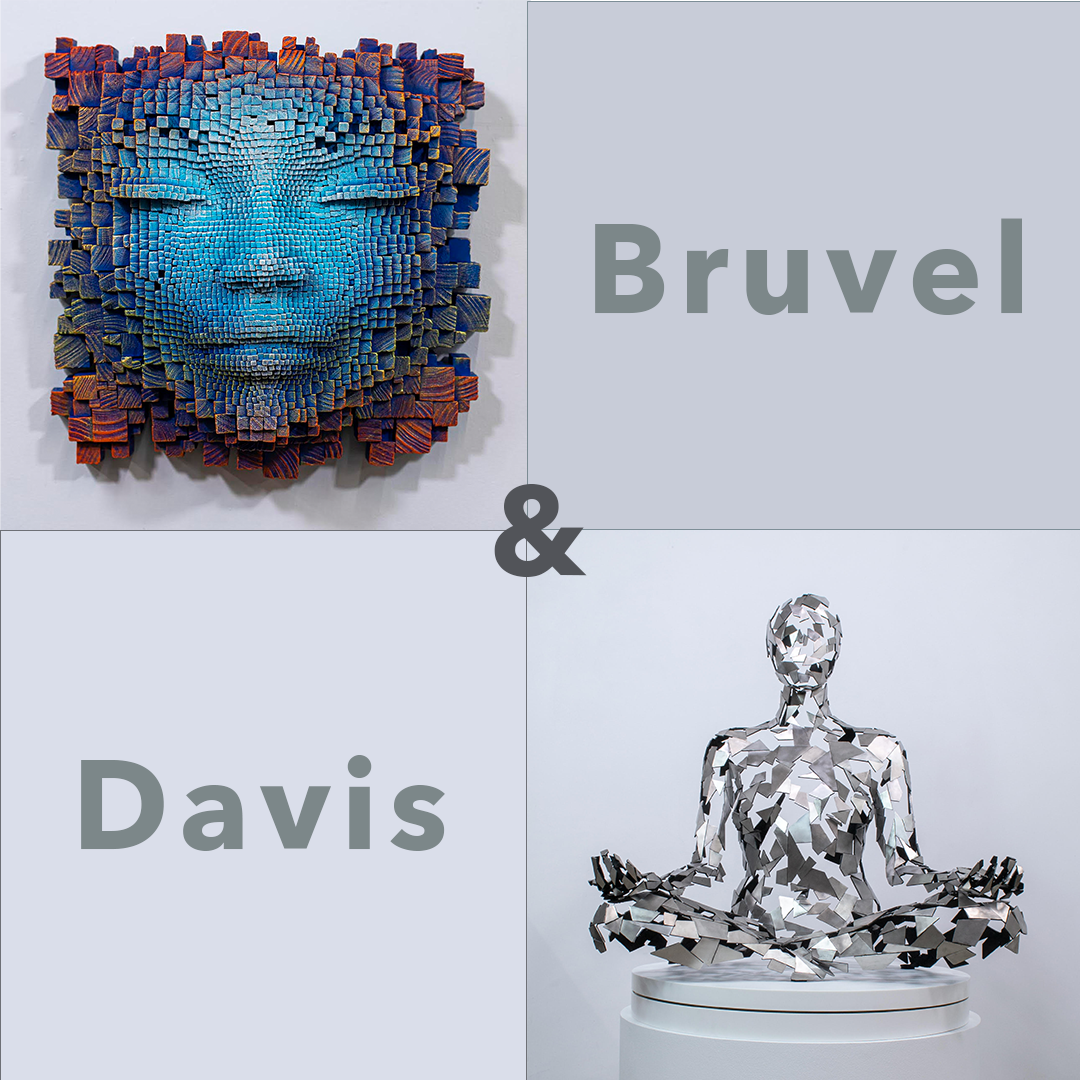 Slate Gray South presents Ment(or/ee) featuring Gil Bruvel and David Davis. This mentor/mentee relationship began 6 years ago when Bruvel was looking for an additional studio assistant. Bruvel took Davis under his wing, showing by example and explaining how to self-sustain as an artist. Now, several years later, Davis gets to mentor young, aspiring artists as well. Although both artists mentor, they are also still mentees at heart.
"Both Gil and I are still 'students' of the arts in the way that we are always learning. It makes sense to propagate a constant drive for learning in others in order to perpetuate positive creative pathways for everyone involved. It doesn't always matter what you know, but how hard you're willing to work in order to learn." - David Davis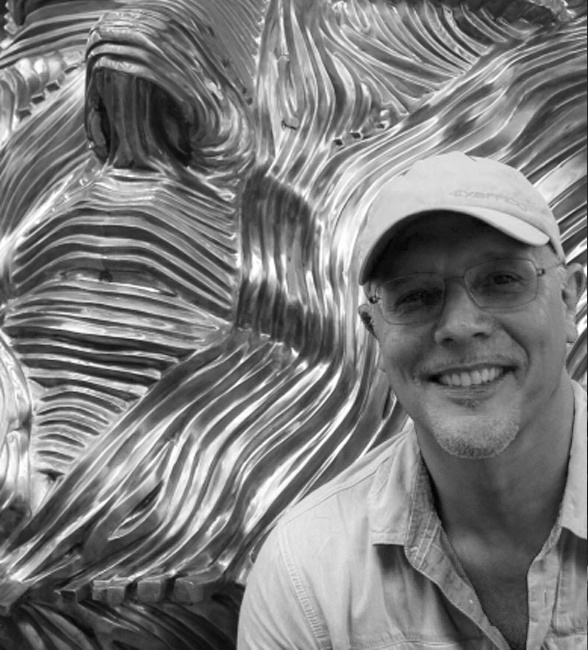 The mentor, Gil Bruvel, pieces together thousands of wooden sticks with exact precision to construct meditative faces for his "Masks" and "Pixelated Forms" series. The meticulous process involves cutting and stacking each piece by hand, taking a torch to the sticks to enhance the natural wood texture beneath the surface, and then painted with colors to stimulate the senses. The result – portraits that embody deep inner reflection, promote calm and relaxation, and achieve mental equilibrium. While tranquil facing forward, sticks of varied depth create an abstract pattern on the back of the rotating heads of "Pixelated Forms." The patterns may feel more intense, peaceful, or somewhere in between. The varied sticks are Bruvel's depiction of neurons firing produced by the emotion the subject is feeling.The front emotion and back neurons may match, or differ dramatically exposing the juxtaposition of one's external versus internal expression.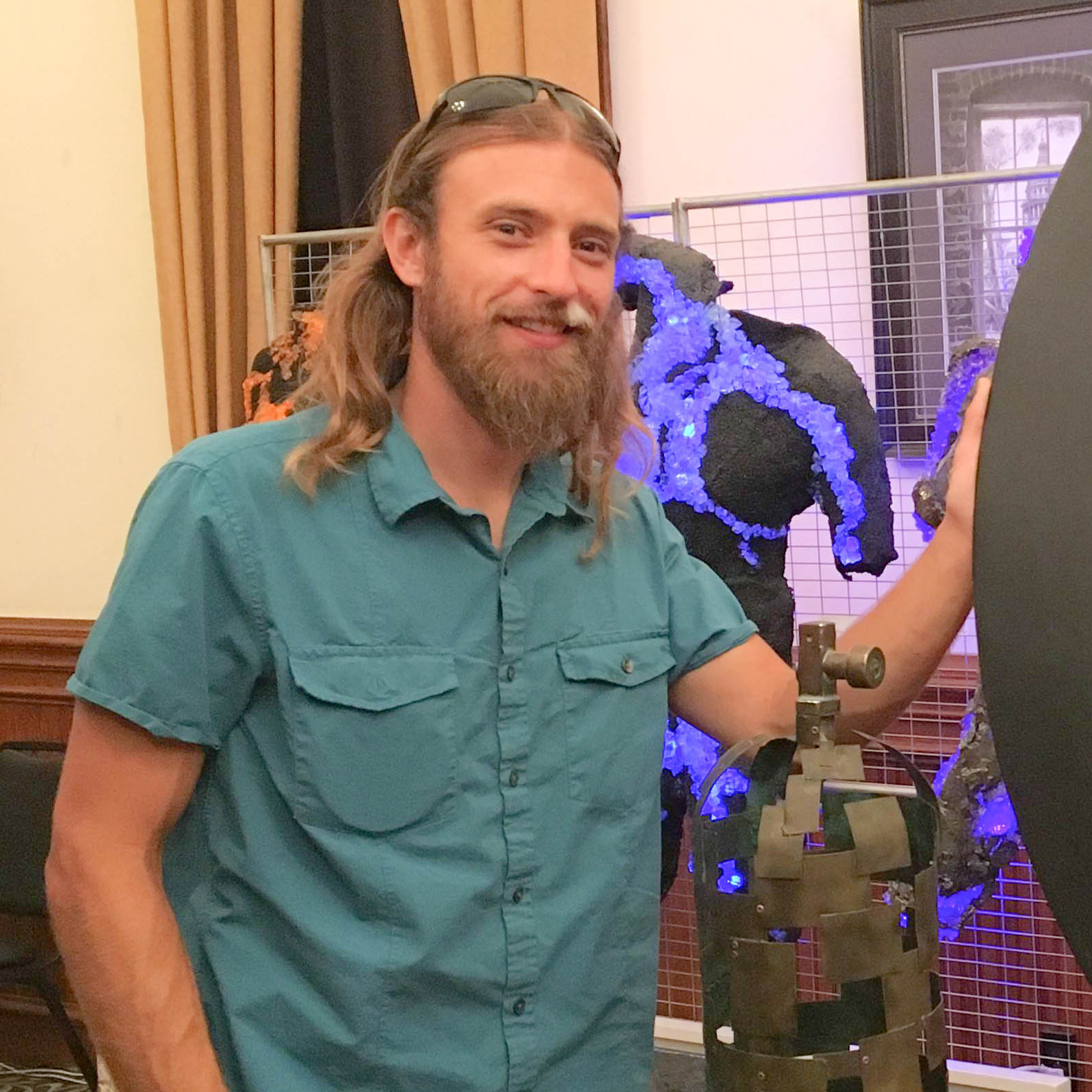 The mentee, David Davis, forged his artistic career with fire as he welds hundreds of pieces of steel into beautifully posed forms for his "Reflections" series. A long-standing passion for figurative arts was the driving force behind the series which began almost four years ago. Each work starts with the subject striking a pose. Davis then photographs and sketches the model, measures every inch of her body, and finally welds the pieces together shard by shard to recreate the model to scale. The figures Davis creates are elegant, poised, and emanate an air of serenity. There is peace found within the negative space, a moment of pause, that breaks up the fragments of metal that compose each body. Many of his subjects are holding yoga poses, are deep within a meditative state, or are taking time for reflection – embodying ideas of physical, mental, and spiritual self betterment.
Gil Bruvel may be the original master, however David Davis is quickly catching up – the viewer can expect to be transfixed by form from the mentor and mentee.
_________________________________________________________________________________
Re-Wired | Judith Kohin
July 29th-Aug 28th, 2022
Exhibition Opening| August 4th, 5pm-8pm
Artist Talk | August 18th, 5pm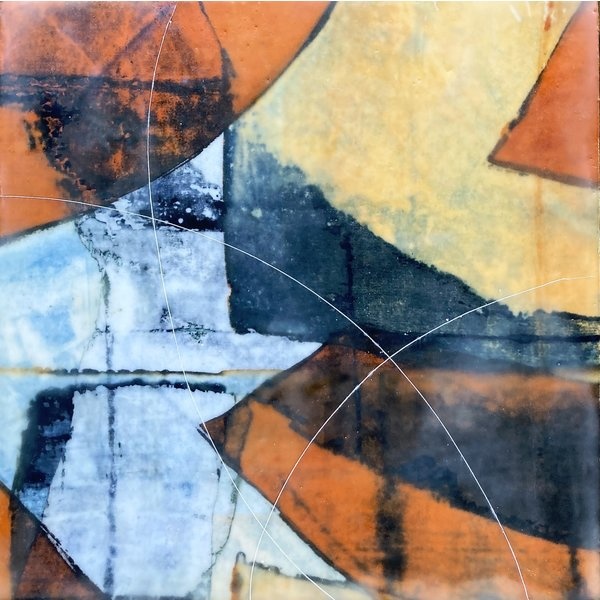 Slate Gray South presents Re-Wired featuring expressionist paintings by Judith Kohin. In 2021, after her 25 years as the executive director of Ah Haa School for the Arts, Judith has "re-wired" herself and is finally pursuing life as a full time artist. 
"I am most at home when I am outside, completely immersed in the wildness of the world. I want my work to convey the exuberance and vitality that I feel—alive! The natural world is a source of joy and ecstasy—I am in awe of its beauty, power and resilience." - Judith Kohin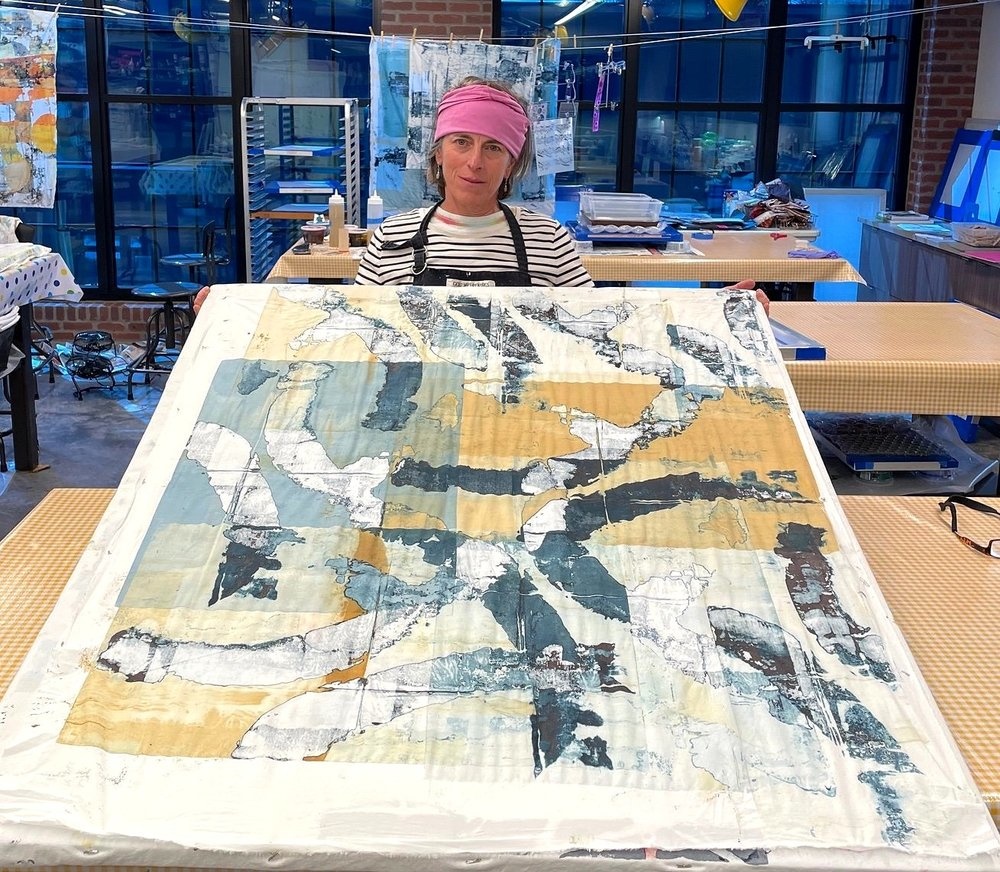 For Re-Wired, Kohin spent the past six months composing geometric shapes, linear marks, and patterns that ebb and flow from corner to corner. Layered through the pieces are various mixed media techniques including printmaking, drawing, encaustic wax, and painting on cradled panel. Having lived in Telluride for 37 years, she finds inspiration from the natural world around her. Whether it's the vibrant colors of the sunset, the textures of a rocky cliff, the infinite lines in an aspen grove, or the diverse shapes amongst a patch of wildflowers – Judith soaks in each detail and pours it back into her art like a living memory. Like the erosion found in nature as the elements carve away at the Earth's surface, Kohin echoes this through her deteriorating screens as each layer is printed. There is a meditative quality to the evolving patterns as the gradual decay of shapes progress from fluid, to rugged, to completely decomposed. Judith Kohin's works exude a sense of tranquility, gratitude, moxie, and triumph – evoking the same feelings one can only find only in the great outdoors. It is in these moments with nature, one finds clarity, insight, and motivation to re-wire.