Kaleidoscope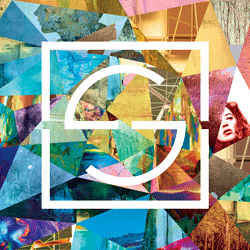 "True West," Featuring The Work Of Felice House
"One of the projects of art is to reconcile us with the world, not by protest, irony or political metaphors, but by the ecstatic contemplation of pleasure in nature," art critic Robert Hughes from "Shock of the New."
Felice House landscape painting as activism goes way back:
The leitmotif of their work is a reverence for Mother Nature and a concomitant fear of losing all that sacred beauty to human ignorance. The difference comes down to the devil in the details, the nature of the threat to Mother Nature. In 19th-century America the villain was Manifest Destiny and all that the movement implied. In the 21st century it is climate change.
We explain….
Landscape painter and English emigre Thomas Cole is known as the father of the Hudson River School, America's first true artistic fraternity, which emerged in the mid-19th century and included titans Albert Bierstadt and Frederic Edwin Church.
Cole's artwork helped define a new national aesthetic divorced from a European influences, in which the role and importance of the environment in American Society became paramount.
Cole (and his colleagues) sought to represent the sublime grandeur of the American landscape. His paintings, however, represent his conflicted feelings over the concept of Manifest Destiny, the justification of the westward expansion of the US back then. History proves that this declaration of independence to go wherever the impulse took a young America, increased the white settlement that led to a long list of indignities, including the loss of wilderness that almost inevitably accompanies economic development.
Cole believed the Divine Presence was embodied in nature and saw the American wilderness as central to the nation's social and religious identity. In other words, he was one of our country's first environmentalists.
Amen and meet painter, teacher and environment activist Felice House, a spiritual daughter of Cole. Her solo show "True West," is featured throughout the month of July at Slate Gray Gallery Telluride.
House, her backstory:
House is an Austin, Texas-based painter and Associate Professor of the Department of Visualization at Texas A&M University, genetically predisposed for her profession:
"My mother was a painter. When I was growing up, she was happiest observing and depicting light and shadow falling onto form. I have fond memories of her taking me to life drawing classes as a child and bribing me with bagels to sit still and let her concentrate. My father has worked in computer graphics since there was a term 'computer graphics' and had recently completed the first text book on physically based modeling, or the math and physics behind movement that drives the animation and gaming visuals. He recently retired as the head of Digital Production Arts at Clemson University. My grandmother, my dad's mother, was an award-winning weaver from Vermont. She wove me a blanket for my wedding based on the topography of the State Park where my husband and I got married."
For the Slate Gray show House, who first garnered the critical spotlight for her study of human nature, particularly the women of the West, has shifted her focus to natural world to create iconic landscape paintings of West Texas. Her goal? To inspire awe in the viewer and remind her audience of their role as stewards of the land.
Taking her lead from the Group of Seven Canadian landscape artists and those affiliated with them, House's paintings employ their technique of heightening the neutral colors and expansive space of the desert landscape to draw the viewer into a contemplative space. Using broken brush marks, House captures the ever-changing light that dances across mesas, rocks, and desert plants, thereby finding fertile ground for visual and spiritual exploration.
House will be in attendance for the July Art Walk opening on Thursday.
Why the Group of Seven Canadians and not, say, the aforementioned Hudson River School or the Barbizon School or the Impressionist group of landscape painters?
"I went to high school and college in Canada. In high school, on Vancouver Island, the paintings of Emily Carr (1871-1945) moved me. Although she was not an official member of the Canadian Group of Seven, there are many parallels between their work as they all worked to capture the land and spirit of Canada in a modern way. Carr was deeply concerned about the environment and influenced by the Indigenous peoples of the Pacific Northwest Coast. She was my first connection to landscape painting as more than decorative depictions of space. In college, my love of Carr's work lead me to the paintings of Tom Thomson, a predecessor to the Algonquin School. I first used a warm saturated underpainting for a master copy of one of his paintings and I've been using it ever since. Though I have not employed this on my recent landscapes, I am moved by his thick brushstrokes. The vastness of the space he depicts, and the almost Fauvist use of color invigorate me. As I continue with my landscapes, I imagine more of those elements will become incorporated into my art."
House's work is also a reflection of her embrace of the Baha'i faith:
"One of the main tenants of the Baha'i faith is the oneness of humanity. Within that central teaching is equality of women and men. Much of my art practice to date has been focused on visualizing and digesting this truth."
So clearly House's dramatic landscapes have a socio-cultural agenda:
"This past year was devoid of people both physically due to the global pandemic – and in my paintings. I was also on faculty development leave from my professor position at Texas A&M in order to get some traction on this latest body of work. With my new-found flexibility, I took a class called 'Our Moral Imperative' from Baha'i educator, Adalia Ellis-Aroha. The course was designed to help white people understand the history and consequences of racial inequity in the United States. I was made aware of the colonizer mindset that sees people and the land as resources to be used, rather than our privilege to care for. On a personal level, I am interested in rooting out this colonizer mindset in myself in order to become a better steward of other people and the land. I am deeply concerned about humans current impact on the environment. I hope my new landscapes encourage people to find fascination with and care for the natural world."
"Investigating the West Texas landscape as a subject has allowed me to revel in its cragginess, imbue it with heightened color and contemplate my role in relation to our resources.
"In my Re-Western paintings the subject was the Women/Hero; in my new landscapes we play the protagonist. We have choices to make about how we engage with this remote untouched portion of our planet."
Felice House, a woman who paints or simply a painter?
Around 1916 when her work was first sent to him, Albert Stieglitz declared about Georgia O'Keefe: "Finally a woman on paper," words that were a mixed blessing. as they opened the door to a highly sexualized interpretation – however true– of O'Keeffe's work, particularly her florals. Later, reputation and myth secure, the artist rebuked the claim, declaring it said more about the viewer than her artistic intentions.
Decades later, Color Field painter- or stainer – Helen Frankenthaler, resisted being labeled a "woman painter" on the grounds that artists should never be  asked to be representative of anything except their art.
Asked about her thoughts on being described as a woman artist rather than simply an artist – given the fact she put feminism at the center of your critically acclaimed Re-Western series – House had this to say:
"In undergrad at the Nova Scotia College of art and Design in Halifax, Canada, I got excited about the ideas of the feminist art movement. I had always created images of women as I see us, but my introduction to this movement contextualized my individual interest into a broader context."
After college, House struggled to produce and show work as a solo artist, then her mother found an article about an exhibition entitled "Women Painting Women."
"That exhibition, which sprang from a movement started by two women painters, showcased of some of the best figurative painting happening back then. As I read through the article scanning the pictures, I was struck by how many women, like myself, were producing images of women that differed from the passive and often commoditized paintings of women by men for a male audience. Knowledge of the Women Painting Women Movement was motivating to me. Over the years I have sought out these women, coordinated exhibitions of female painters, and now a wide support network of painters from across the country. "
That said, House completely supports Helen Frankenthaler's request to be seen only as a painter, not as a painter of a certain gender:
"Frankenthaler was painting during the heyday of Abstract Expressionism, a Big Bad Boys Club. There would not have been a national network of women ABers for her to seek out. She and many other women painters paved the way for my generation. That said, representational painting is a specific educational pursuit that was, with few exceptions, completely unavailable to women until relatively recently. I feel that history should be considered as context when thinking about historical women artists."
House, on the subject of her subject matter:
In addition to her landscapes a few of House's celebrated portraits of women will also be on display at Slate Gray. So is the artist agnostic about subject matter like her Slate Gray compatriot Mark Bowles?
"Whether I am working with a still life, the human figure, or landscape, what fascinates me, compels me to paint, is texture, form and color, which I use in expressing how I feel about what I am seeing…My heart is always pushing my work to find a new language to express what I see and how I feel about that. The result therefore is not just an intellectual exercise, it is being involved in the Now, open for change and challenge, always evolving," said Bowles.
House frames the notion somewhat different, but shares Bowles' sentiment:
"Figurative painter Ann Gale paints models in neutral poses, but the subject of her work is actually the fragmented, ever-changing light. Hollis Dunlap paints figures and landscapes, but his subject is really the underlying connection of objects as seen through his brush marks. These two painters have physical, representational content, but they are actually talking about the investigation of light and the handling of the paint.
"For my Re-Western series, the subject and surrounding cultural narrative added layered meaning to the read of the painting. It is possible to view them without regard for the subject, but  then some content is lost.
"My new landscape paintings fall somewhere in between. The subject matter is a framework for my investigation of paint and mark-making, a fractured representation of light as I see it. The subject itself is the link to my emotional and political feelings about our relationship to nature and our limited resources."
What's more, House's landscapes are really not the sharp turn in focus (from portraits to landscapes) they might appear to be:
"Although the landscapes seem like a departure, there has been a steady progression in that direction.
"After my Re-Western series, which garnered significant press, I created a series called 'Sum You Some Me' alongside my husband, sculptor Dana Younger. That series put visual form to my longing for connection to the natural world. 
"My landscapes simply remove the figure entirely from the work and focus directly on the relationship between nature and human existence."
In a review of one of House's Re-Western exhibits, one critic stated:
"Re-Western is concerned with representation, agency and gender. Specifically, House is interested in working through the difficulties of thinking about women within masculine constructs; how they are constrained and how they resist and exceed their confines."
With the wording slightly changed, House finds clues about what role her landscape paintings could play, paraphrasing:
"Specifically, House is interested in working through the difficulties of thinking about the land within masculine constructs; how it is constrained and how to help it resist and exceed its confines."
Felice House, more:
Felice House has exhibited in museums and galleries across the country, as well as internationally. 
Her work can be found in both public and private collections, including The Booth Museum of Western Art, Austin City Limits Music Festival; New Mexico State University; Prentice Women's Hospital; and American Campus Communities. 
She has been featured inFine Art Connoisseur Magazine, Vice Magazine's The Creators Project, the BBC News, This is Colossal, Upworthy, GirltalkHQ, Hypertext, Refinery29, Boing Boing, Fubiz, El Diario (Spain) and Tabi Labo (Japan).
House received a BFA from the Nova Scotia College of Art and Design, an MS from Texas A&M University in computer graphics and an MFA in painting from the University of Texas. In between her other schooling, the artist spent time studying classical painting and portraiture at the Schuler School of Fine Arts in Baltimore, MD. 
House currently lives in Austin, TX with her husband and two step children. She is an Assistant Professor in the Visualization Department at Texas A&M University and a member of the Baha'i Faith.
August Art Walk: Katherine Lott & Molly Perrault
This show is a duet combining local artists from Kerrville and Telluride. Katherine has been with Slate Gray since the beginning, the exhibition will feature her newest aspen trees. August marks Molly's second group show and features her newest series of collages of Southwestern landscapes.
September Art Walk: Painter Fran Nagy's first solo show at Slate Gray:
October Art Walk: Mark Bowles' first solo show at Slate Gray:
"Whether I am working with a still life, the human figure, or landscape, what fascinates me, compels me to paint, is texture, form and color, which I use to express how I feel about what I am seeing…My heart is always pushing my work to find a new language to show what I see and how I feel about that. The result, therefore, is not just an intellectual exercise; it is being involved in the Now, open for change and challenge, always evolving."
For now, Mark Bowles gets the last word.
Telluride Inside… and Out (TIO) is a lifestyle webzine or ezine published daily, which addresses the "zazz" of Telluride or the region's sex appeal, focusing on the many ways this little mountain town is a window to the world. TIO explores the Telluride region's many riches: the fine and performing arts scene, festivals, and special events, and the unlimited outdoor adventure activities of the Rocky Mountains. Whatever is happening right now! Spend some time with us here at TIO, and you may find that you too are 100% Telluride Inside. Just go to www.tellurideinside.com.