Kaleidoscope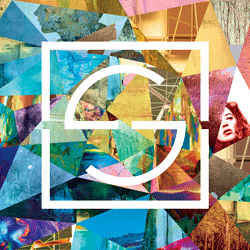 Of Nature - 3 Different Visions of Texas Landscape
Slate Gray Kerrville
Sylvia Benitez, Carol Arnold, Susu Meyer
February 4 - March 4
"You must suggest to me reality. You can never show me reality," 19th century landscape painter George Inness. In the Texas Hill Country, these ladies never met a sky or a tree or a field of flowers they didn't like.
What the three artists in the upcoming show at the Slate Gray Gallery in Kerrville, Texas, have in common is a profound affinity for Mother Nature in general and the Texas landscape in particular – and their muse, the Lone Star State, the gift that keeps on giving. Of Nature runs from February 4th through March 4th. Artists' reception is February 20th from 5-8 pm at Slate Gray Kerrville.
Little known facts (according to one online source): Texas consists of 268,581 square miles. The highest peak, Guadalupe Peak, is 8,749 feet above sea level. There are more than 605,000 acres of woods and forest areas spread across 120 state parks and five state forests. The state also has 191,000 miles of rivers spread across 15 major river systems and 3,700 streams. There are 14 soil regions, 10 climatic regions, and 11 ecological regions throughout the state.
That said, trying to define "Texas Art" in simple terms is like attempting to define the state itself. There is no one Texas or Texas experience, culture, landscape, or aesthetic. The state is as diverse and wide-ranging as the people it embraces and landscapes they populate.
Collectively, however, the Texas landscapes of Sylvia Benitez, Carol Arnold, and Susu Meyer explore the sublime and romantic, the magic and mystery of their surroundings in oils, acrylics, and pastels that are at once lush, rapturous, and intimate. Their work is not about mimicry, rather their paintings represent deeply personal outer expressions of a vital inner force which we are privileged to share.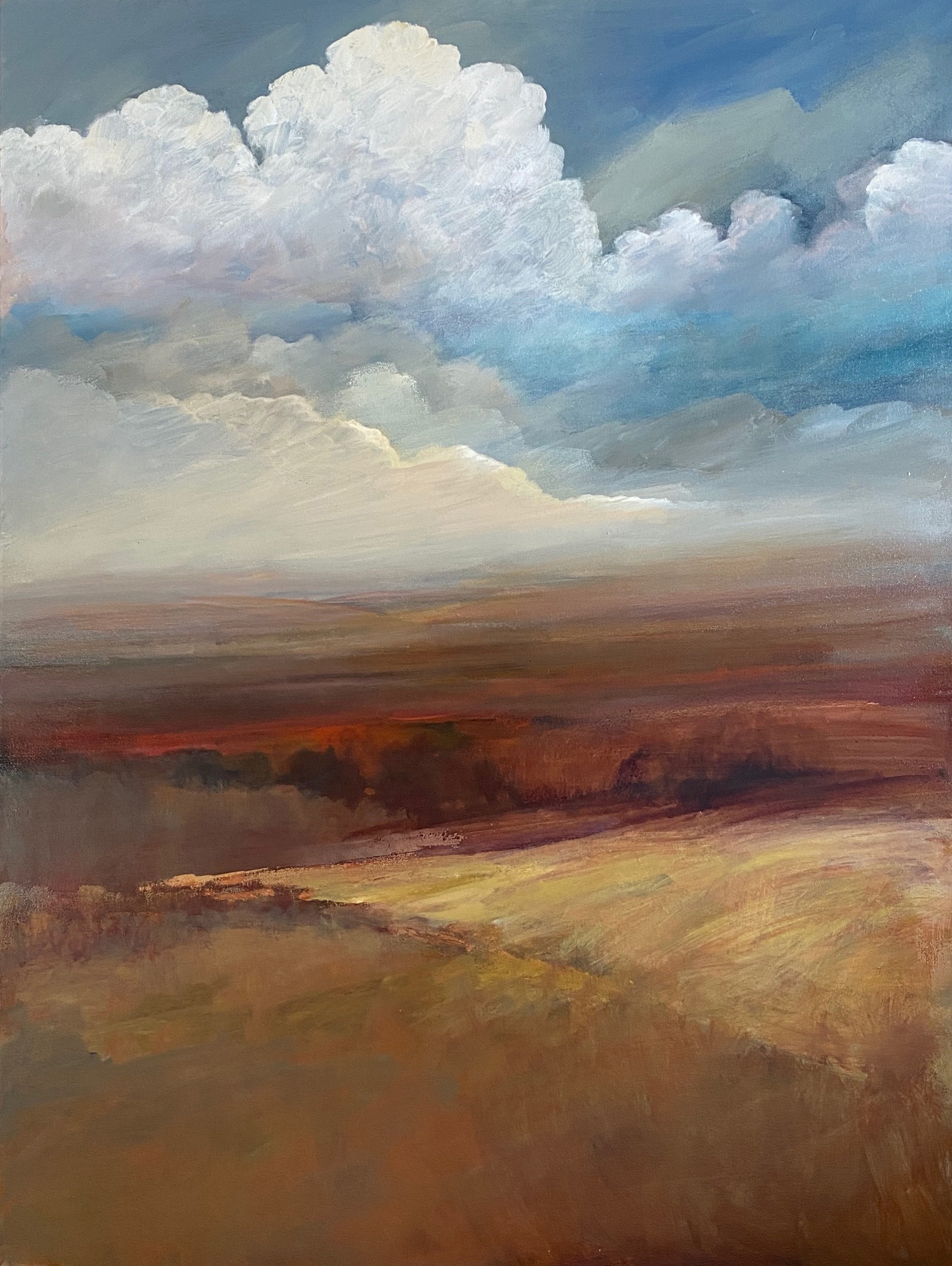 Sylvia Benitez:
The abstracted landscapes of Sylvia Benitez featuring Big Sky/low ground are at the nexus of site and insight. Because, in the end, the mirror of art is designed to reflect both the outside world and our own inner landscape. By her own admission, Benitez mines the rich veins of memory to represent a personal, therefore unique, vision of her home base, Texas, (in the words the artist): "Be it the flight of wind, the roll of grass or the ripple of water..."
"My work is painted without the aid or use of photographs. Instead, my oil paintings represent a mélange of mental images —the stuff I see every day as it plays out against the backdrop of the ever-changing Texas landscape. This is the visual bank I pull from... And the stored memories pour out and jumble, reconfiguring on my canvas as new impressions of place and time and weather—alive.
"Painting from memory frees me, allowing emotional content to enter into the work—the awe and sense of wonder and respect I have for the untamed and unprotected wilderness. This is what drives me to paint—the desire to celebrate this land while it is still relatively pristine—my need to document a heart song."
Observing the curves and colors, the rhythms and force of her surroundings, Benitez records our ever-changing world – and her own - with grace and eloquence that conjures the DIVINE and personal. A marvel to marvel at: "Every day I see majesty: rolling hills, big skies, long views, and jade-green rivers. Where I live, Nature is still unmarred by modern footprint, and its beauty takes my breath away. My paintings are about that..."
Sylvia Benitez is an artist and curator who spent her formative art years in NYC. Now living outside Seguin, she teaches landscape painting in San Antonio, TX. Benitez is a recognized installation artist and painter—the recipient of many national awards, including two MacDowell Colony Residencies; two Pollock Krasner awards; An Adolph and Esther Gottlieb Individual Support Grant; an AICA award; and Two National Endowment for the Arts Visiting Artist Fellowships.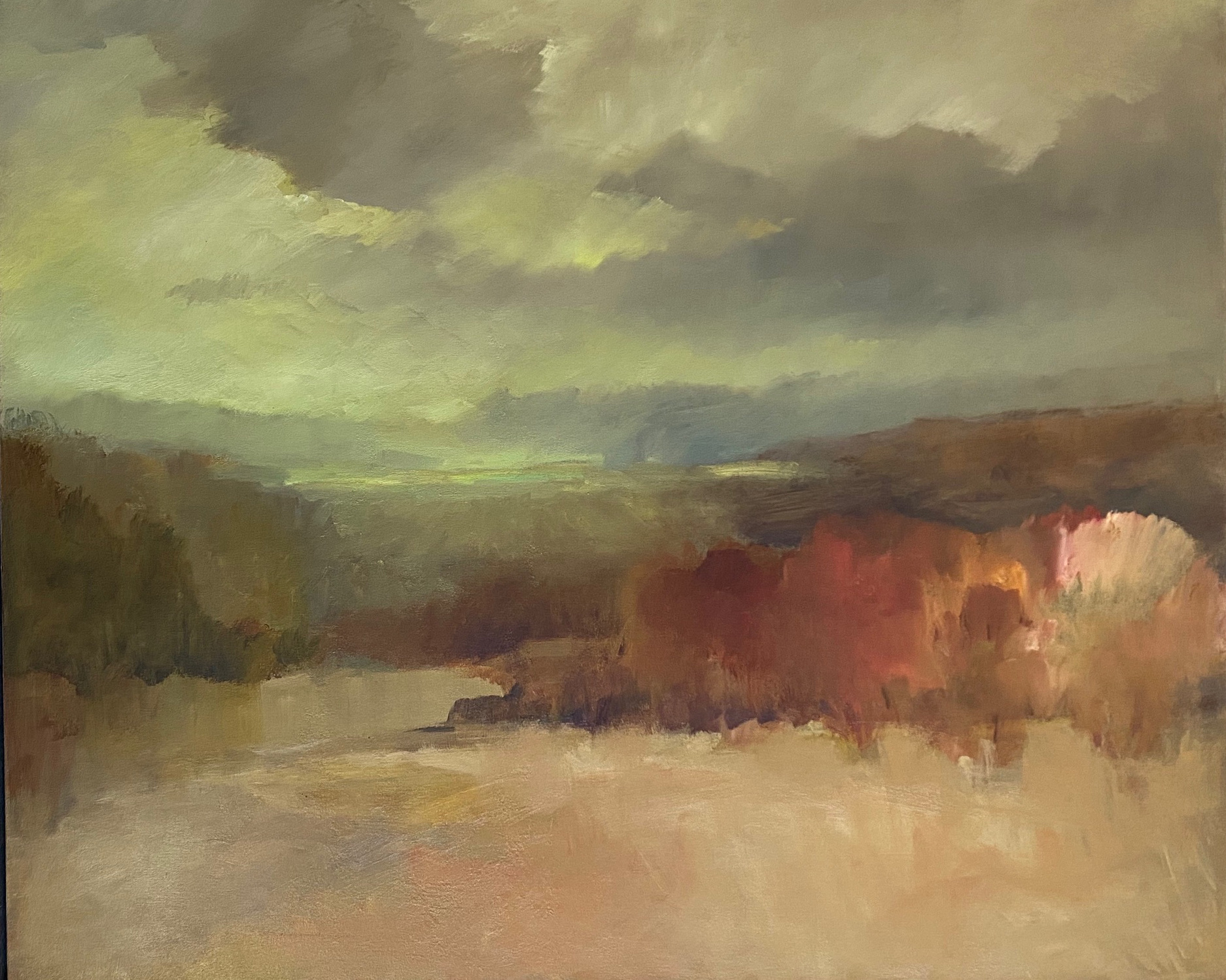 Represented by the Hunt Gallery in San Antonio, TX. and now the Slate Gray Gallery in Kerrville, Benitez's work can be found in many private and public collections. Benitez is president and founder of The Gentileschi Aegis Gallery Association—GAGA— a 10-year-old 501(c)(3) nonprofit that has served over 100 women artists from south Texas since its inception, and which boasts today an active membership of over 70 women artists. Benitez has curated more than 30 thematic GAGA exhibitions, many of which have been all-member shows.

Carol Arnold:
Carol Arnold has been painting for over 20 years. Her artwork is ever-evolving and captures her love for the outdoors and God's creations. Sometimes she comes in close, gets intimate with, say, an agave plant. Other times, the artist takes a long view, enchanted by morning light, a big bright blue sky, or sweeping, majestic vistas.
"When you walk out your door and really look around you, the world is one miraculous creation of light, texture and color. I see beauty everywhere, in the largest of subjects as in the sky, to the smallest of flowers hiding in the grass beneath my feet. My art is my attempt to capture that beauty that is found daily, and my hope is to encourage others to take time and have eyes
to see the wonders of the world around them."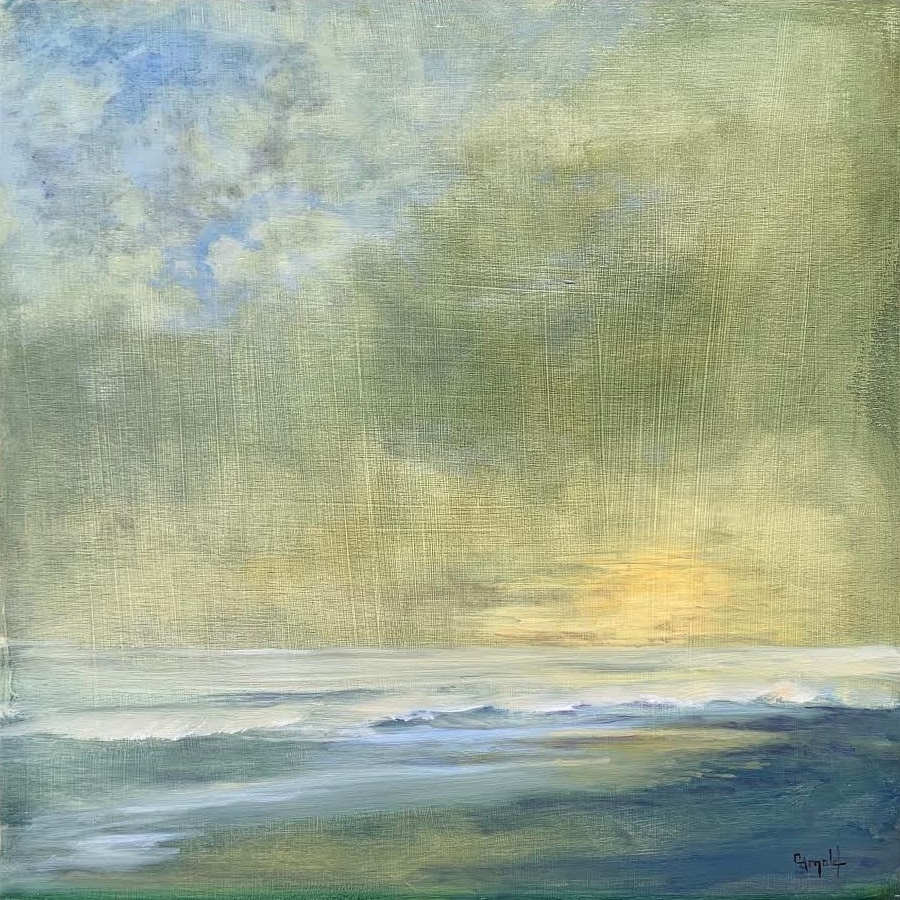 Carol Arnold was born and raised in Dallas, Texas. She attended the University of Texas at Austin, and since 1998 has lived in Kerrville. Arnold paints in oil, acrylics and pastels and uses watercolor to create an annual 5 x 7 calendar featuring a different theme each year. Art, gardening, family and friends are the key components of her life. Arnold draws inspiration from all of God's creations: animals, plants, insects, sunsets... But, as all artists, she puts a small
part of herself into each painting.
"I find it very gratifying to finish a painting and have captured the essence of what inspired me. I prefer to paint to music, at night, when things are quiet and still. I try to always have something to work on."
Other honors and awards include:
Best of Show Kerrville Arts and Cultural Center Juried Member Show
First Place Hill Country Arts Foundation Members Juried Show
Honorable Mention Austin Pastel Society
Listed in March 2018 Issue Southwest Art Magazine
Arnold is also a member of the Pastel Society of America. Carol Arnold lives in Kerrville, Texas with her husband, Bill, their Australian Shepherd, Scout and their cats, Purrl and Bo Jangles. The artist has also raised seven really great kids.

Susu Meyer:

Susu Meyer readily admits to being fascinated by nature, which she captures in slightly abstracted, lyrical landscapes that amount to love letters to her state:
"I am drawn to the large and small aspects of what we are surrounded by daily. Light might catch my eye, form and texture might bring it closer into focus, but there is no formula. I am
fascinated with the Big Picture, and the intricate pieces of the whole as well, striving to investigate and express what I see and experience in a personal and intimate way."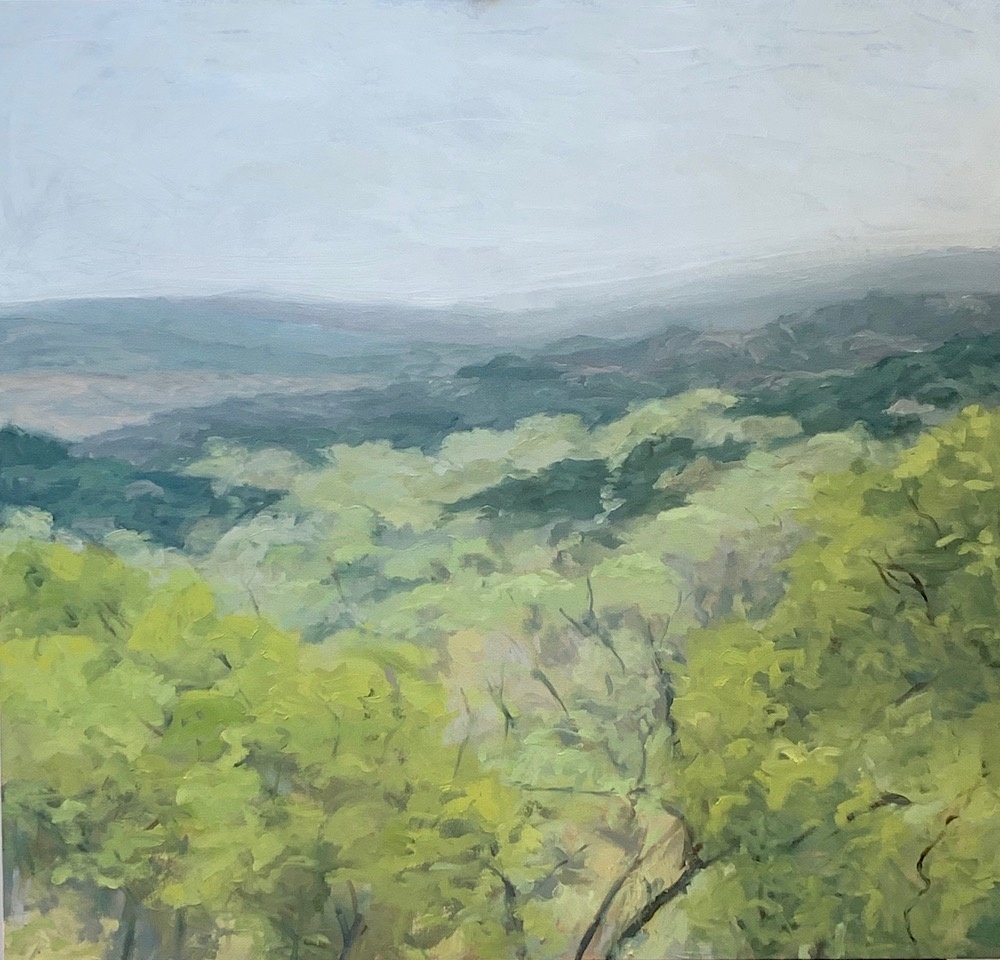 Susu Meyer was born in 1954 in Houston, Texas. She earned her B.F.A. at the University of Texas at Austin in 1977. Meyer tends to paints large-scale Texas landscapes and the rivers of Texas, which she has exhibited at galleries throughout Texas since 2002, but today her work is featured in major public collections, including the Hermann Memorial Hospital, Houston Country Club, Chevron offices, Colliers International, and EOG Resources. Meyer hopes her viewers have a personal experience with her work and feel as though they are present in her landscapes.
Fran J Nagy & Amy Van Winkle | Ancient Influence

Slate Gray Telluride
February 6th - March 4th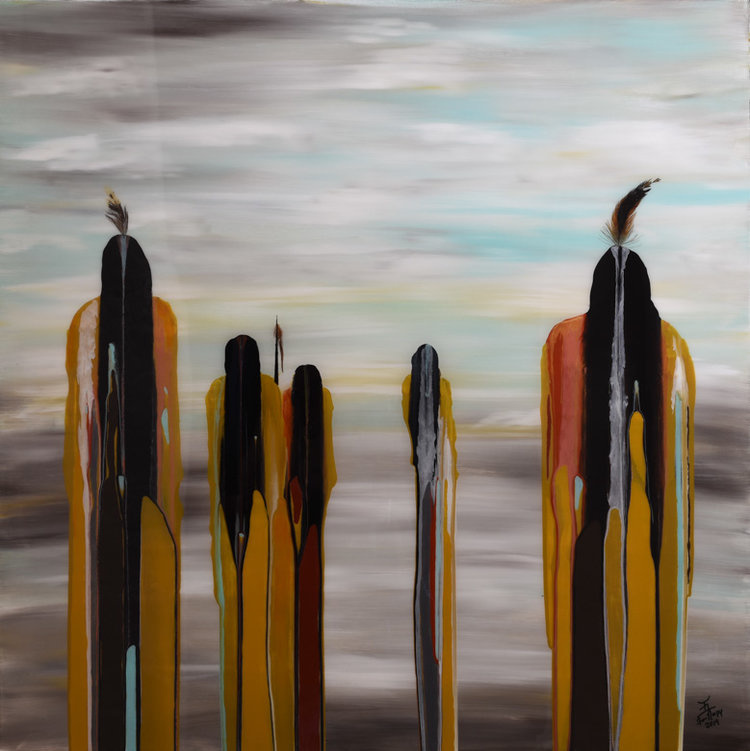 Two artists from different times and cultures feature attenuated forms in their paintings. Both trace the inspiration of their work to their disparate roots. Both use their platform, fine art, to make statements about The Other, about social ostracism and/or indifference – or worse.
The Italian artist Amadeo Modigliani (July 12, 1884–January 24, 1920) is best known for his portraits and nudes, which featured elongated faces, necks, and bodies. 
A show in 2017 at The Jewish Museum in New York centered on how anti-Semitic sentiments, prevalent in Paris at the turn of the 20th century, helped shape Modigliani's aesthetic during his short, yet extremely prolific 14-year career. Understanding the anti-Semitic social and cultural climate in which those early works were created is crucial to apprehending Modigliani's overall oeuvre and how it was influenced by his own interpretation of his identity as a Sephardic Jew.
Fran Nagy, a relatively new artist in Slate Gray's stable, has Native American DNA. Working with acrylic and resin on canvas, like Modigliani, the paintings of this multi-disciplinary artist feature elongated forms, but Nagy depicts her figures with their backs to us – as they forward march into an unknown future. Some of these faceless shapes are stretched to the point of abstraction. Stretched any further and the could disappear into a simple line with no clear identity at all. These forms could easily be read as exclamation points at the end of a story about what happened to Native Americans in a country that prides itself – or used to – on being a melting pot.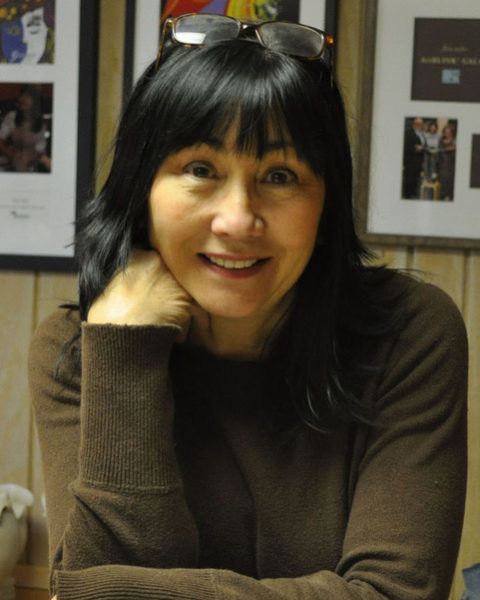 Native American art has developed over centuries, tracing its roots back to cave paintings, stonework, and earthenware. Typically linked to a deep connection with spirituality and Mother Earth, Native American art comes in many different styles and forms to reflect the unique cultures of diverse tribes.
"My Native American subject matter has been inspired by cultural assimilation and my own dwindling genetic makeup. I am the last descendant who carries any physical trace of Native American Indian ancestry. The content of this work speaks for thousands of people who were forced to make a journey down a path of assimilation."
Nagy's timing appears to be spot on. Not only are Native issues finally being heard in the media, some of the loudest and loveliest voices are those of artists like her, an American, a native and (in her case, part) a Native American.
Think of Fran Nagy's paintings as commentaries on the complex relationship between Native and U.S. history and contemporary culture. Her work delivers a powerful message and speaks eloquently to "the ones who are remembered – by how they were forgotten."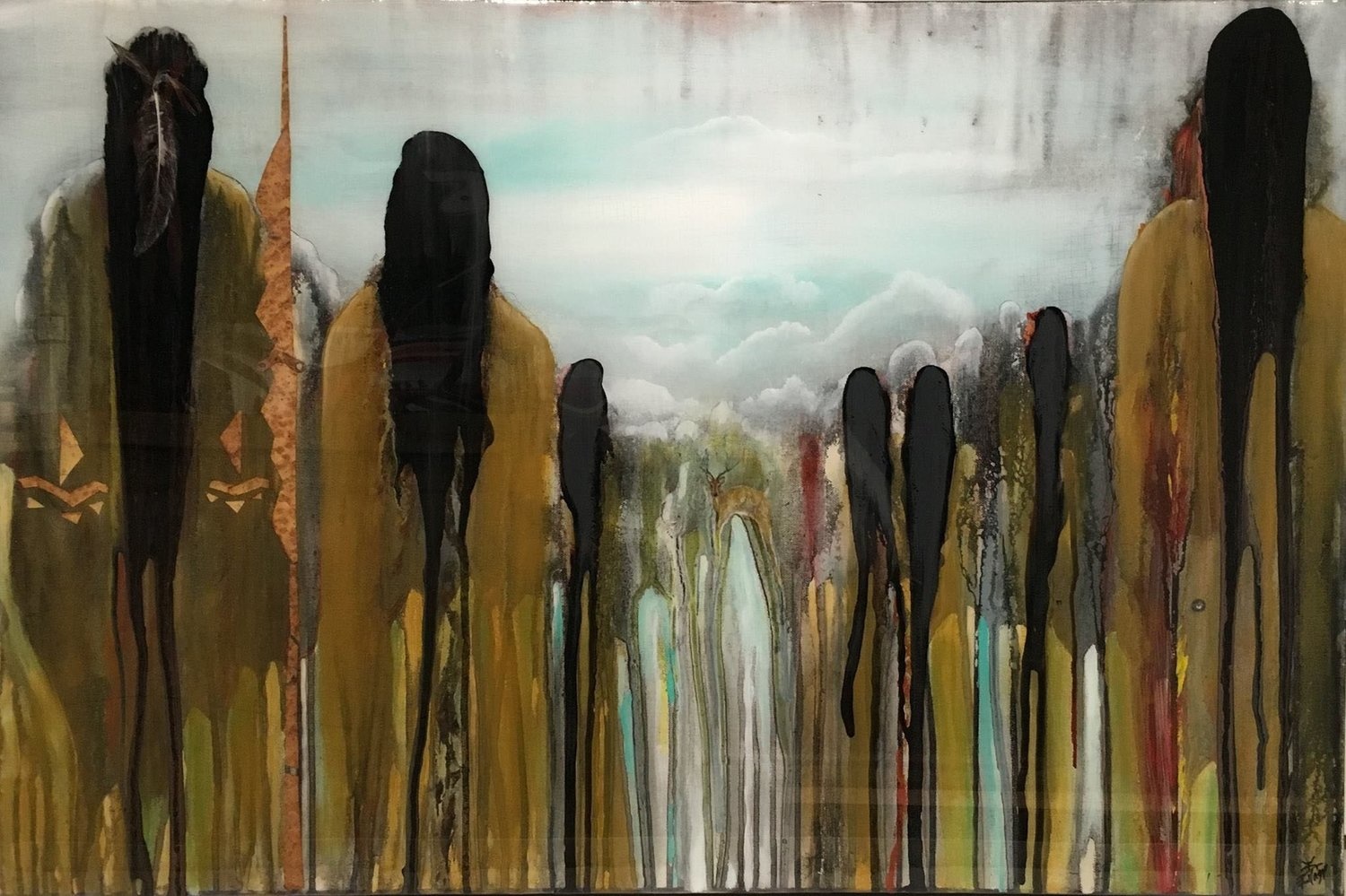 Continuing she says:
"As an artist and through my hands, I have found a voice to create art that is imaginative and also very personal. My work is influenced by my own ethnic and cultural experiences. My paintings, ceramics, and photographic art is abstract and contemporary, with a focus on the human form."
Fran Nagy is a life-long artist, former teaching artist, and owner of Imagine Partners in Art. She was born in Mobile, Al. and grew up in the New Orleans area.
Her ceramic work has garnered International recognition and numerous awards including an Honorable Mention at the International Ceramic Festival (Mino Japan, 2011) for her ceramic piece entitled "The Connected Couple." In 2012, Nagy combined sculpture and woodwork to create a unique piece "The Owls," which won the Grand Prize at the Nature Conservancy's "Picnic for the Plant".
By invitation, her work is included in Vasefinder International Exhibition, 2009, 2010, 2011, 2012 and 2014.
She has been represented by the Becca Gallery, New Orleans and LA; Robertson Gallery, Mobile, AL; Alabama Clay Market, Birmingham, AL; Birmingham Botanical Gardens Gallery, Birmingham, AL; Little House Gallery, Homewood, AL; The Grand Bohemian Gallery, Mountain Brook, AL; and lately Slate Gray Gallery, Telluride.
Slate Gray: Amy Van Winkle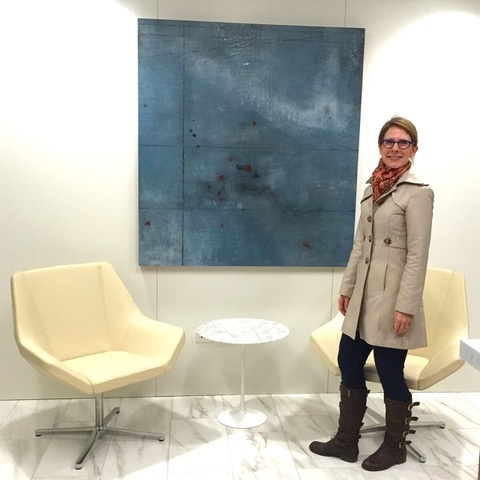 Everything old is new again in the work of artist Amy Van Winkle.
Encaustic painting, the name derived from the Greek word enkaustikos meaning "burnt in," was one of the the principal styles of painting in the ancient world, dating back at least two millennia. The technique involves using heated beeswax to which colored pigments are added. The liquid or paste is then applied to a surface — usually prepared wood, though canvas and other materials are often used. The simplest encaustic mixture can be made from adding pigments to beeswax, but there are variations on that theme. Once the wax paint cools, additional layers can be added to achieve depth and texture, color layered upon color, to create vibrant color fields.
Eliminating figure and ground in favor of color and form, Van Winkle's encaustics force a focus on paint, surface, texture, and gesture, creating abstract images that are effectively "soulscapes," both revealing and concealing the artist's inner world and life experiences. Space, time, and transition are common themes in her art.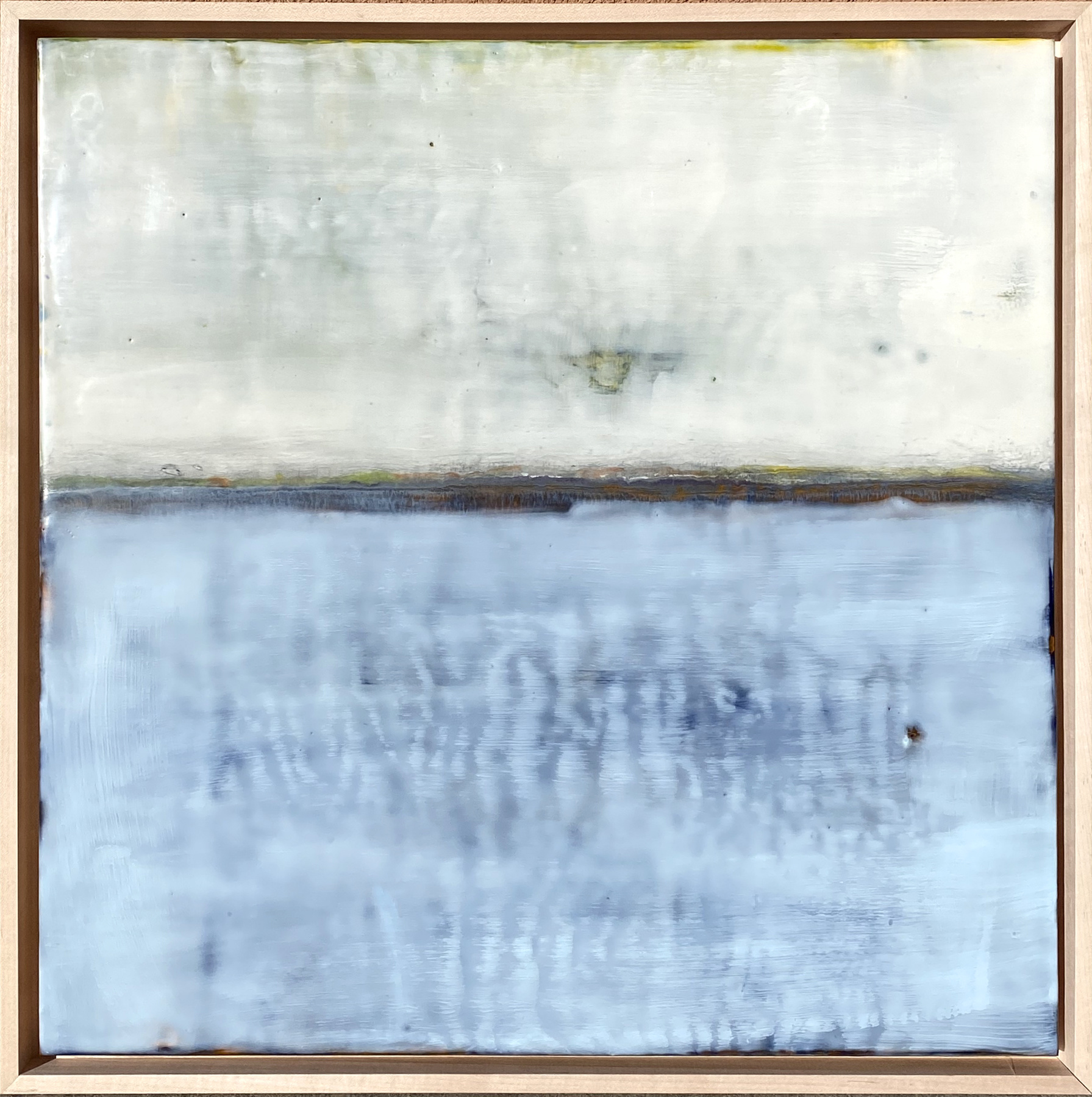 Van Winkle's work begs comparisons to Mark Rothko, an Abstract Expressionist renowned for luminous, transcendental landscapes and in-your-face fields of color. While similar, however, the two artists part company based on intention: Rothko was after spiritual transcendence; Van Winkle, well, she's a talented woman after a good time.
"It's simple: I create art because it makes me happy. I try not to overthink the process of what I'm painting and let my intuition be my guide. My paintings become a dialog of layers, with transparent and opaque details. Some of these layers will be sealed in the history of the painting while others will be revealed through heating and scraping the surface. There's a distinct relationship between the layers of my paintings and my own life experiences. Choosing to reveal certain elements of my history and keeping certain memories hidden and private."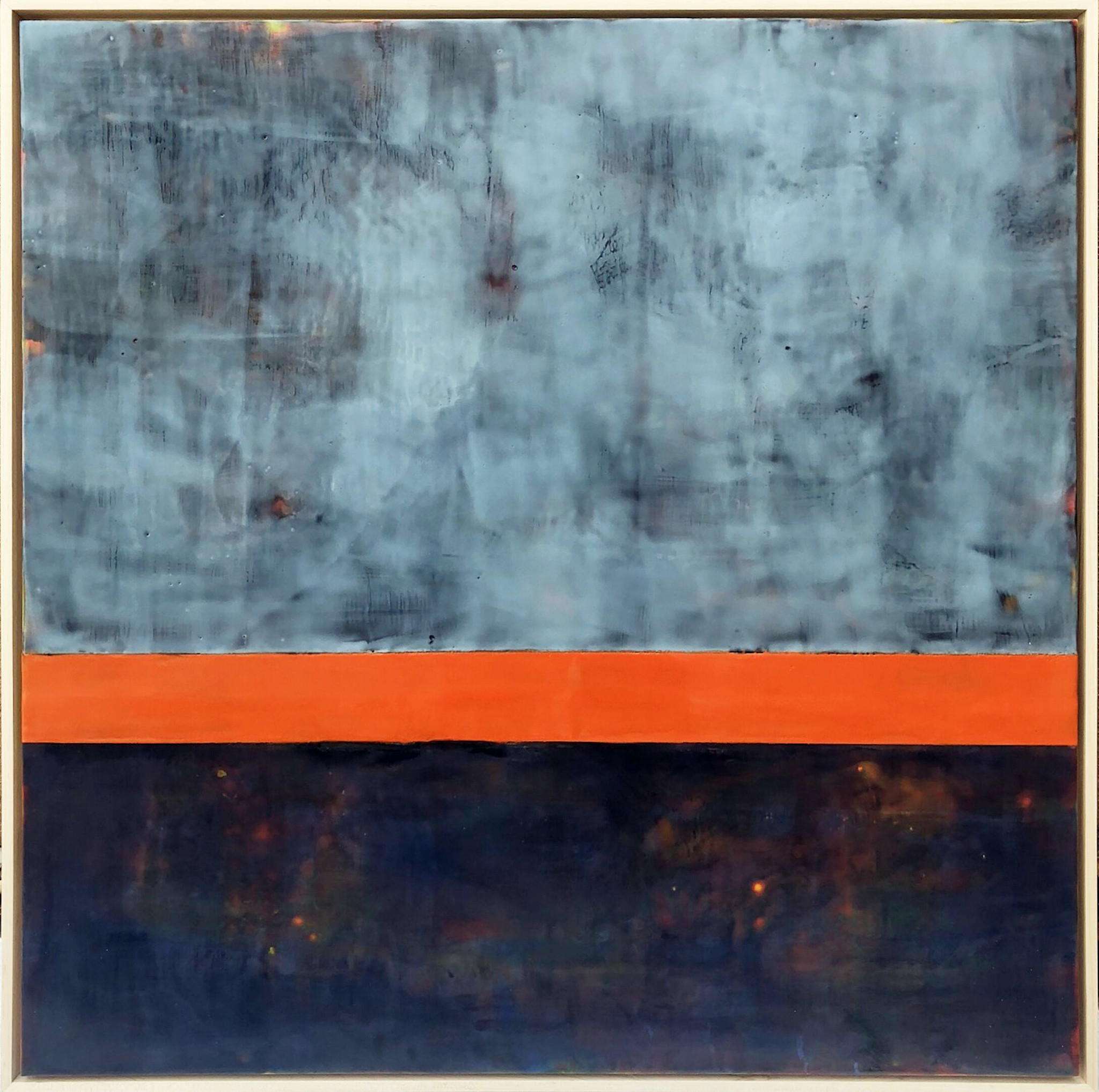 In 2000, Van Winkle moved to Hong Kong and began exploring Southeast Asia. The experience opened up a whole new world of cultural experiences and a desire to continue exploring. Back home in September 2001,Van Winkle opened up a home décor shop and art gallery in Chicago It is during that time she started showing and selling her work, now featured in galleries in the U.S., including Slate Gray Telluride, as well as Taiwan.
Today Van Winkle lives full-time in Santa Fe with her husband Mike, son Declan, and two dogs, Seamus and Oliver. Her work is featured in both private and corporate collections.
To learn more about Amy Van Winkle, listen to her podcast.
Telluride Inside… and Out (TIO) is a lifestyle webzine or ezine published daily, which addresses the "zazz" of Telluride or the region's sex appeal, focusing on the many ways this little mountain town is a window to the world. TIO explores the Telluride region's many riches: the fine and performing arts scene, festivals, and special events, and the unlimited outdoor adventure activities of the Rocky Mountains. Whatever is happening right now! Spend some time with us here at TIO, and you may find that you too are 100% Telluride Inside. Just go to www.tellurideinside.com.